The Kicks We Wear, Vol. 60 — So I guess we're really doing this?
Stores will open back up, but everyone needs to be careful
Good morning, folks! Happy Friday! Welcome back to the Kicks You Wear. Thanks for giving me some of your time today.
We're only 20 subs away from 800! And, because I love y'all and am so thankful to have you here, we're pushing the spend for our raffle winner up to $150 instead of $120! Share it with your friends! Get them hip. Tell them to subscribe to the Kicks You Wear!
With that out the way, let's dive right in.
---
Be safe out here folks
(Photo by Leyre Labarga on Unsplash)
We're all going to need to be as careful as possible over the next few weeks as a number of states reopen their economies amid the coronavirus outbreak.
We are absolutely not done with this thing yet. Despite that fact, a number of states will go back to business as usual this month. Some have already started.
Already, 31 states have either slowly peeled back stay at home orders or will begin to within the next week or so, per the NY Times.

That's happening despite the fact that cases are still continuing to climb in the U.S. with the exception of New York, which has actually bent its curve, Axios' Caitlin Owens writes.
Opening things up means that means that retail is slowly going to come back soon. Retail slowly coming back means the sneaker industry will be active again, too.
This soft open, of sorts, is coming at a perfect time. The industry desperately needs a jump start. Sales industry wide dipped by 75% as of last month. Adidas saw a 93% profit dip in Q1 and that was just the beginning — more brands are sure to see a similar drop down the road.
But opening things up doesn't guarantee a rebound. These companies are still navigating in a space where caution is going to be the primary thought for most people.
As we said before, the normal we once had is gone. The virus is still here. People aren't desperate to spend their money on things they don't really need.

Everything also won't open in uniform. Different jurisdictions have different regulations. In some places, opening stores won't even make sense given the limited capacity they'll have.
Creating the safest environment possible for people to operate in is the priority. There are a number of questions they have to ask themselves before they open. Foot Locker CEO Dick Johnson hits the nail on the head here in a Q&A with Footwear News.
"We operate with a 'can we, should we' framework that says everything's got to be in accordance with local laws and sentiments but is it safe and right for our team members and our customers, is it possible for us to communicate effectively. All those things have to be in play."
There are ways to minimize risk here by focusing on digital operations. If opening is too risky? Don't force it. You won't see the same profit margins, but you also won't put employees and customers at risk. We saw what happened with StockX last week.
Honestly, with all the questions out there it makes you wonder if this "open" is even worth it at all. But alas.
---
Kanye West is the King of the leak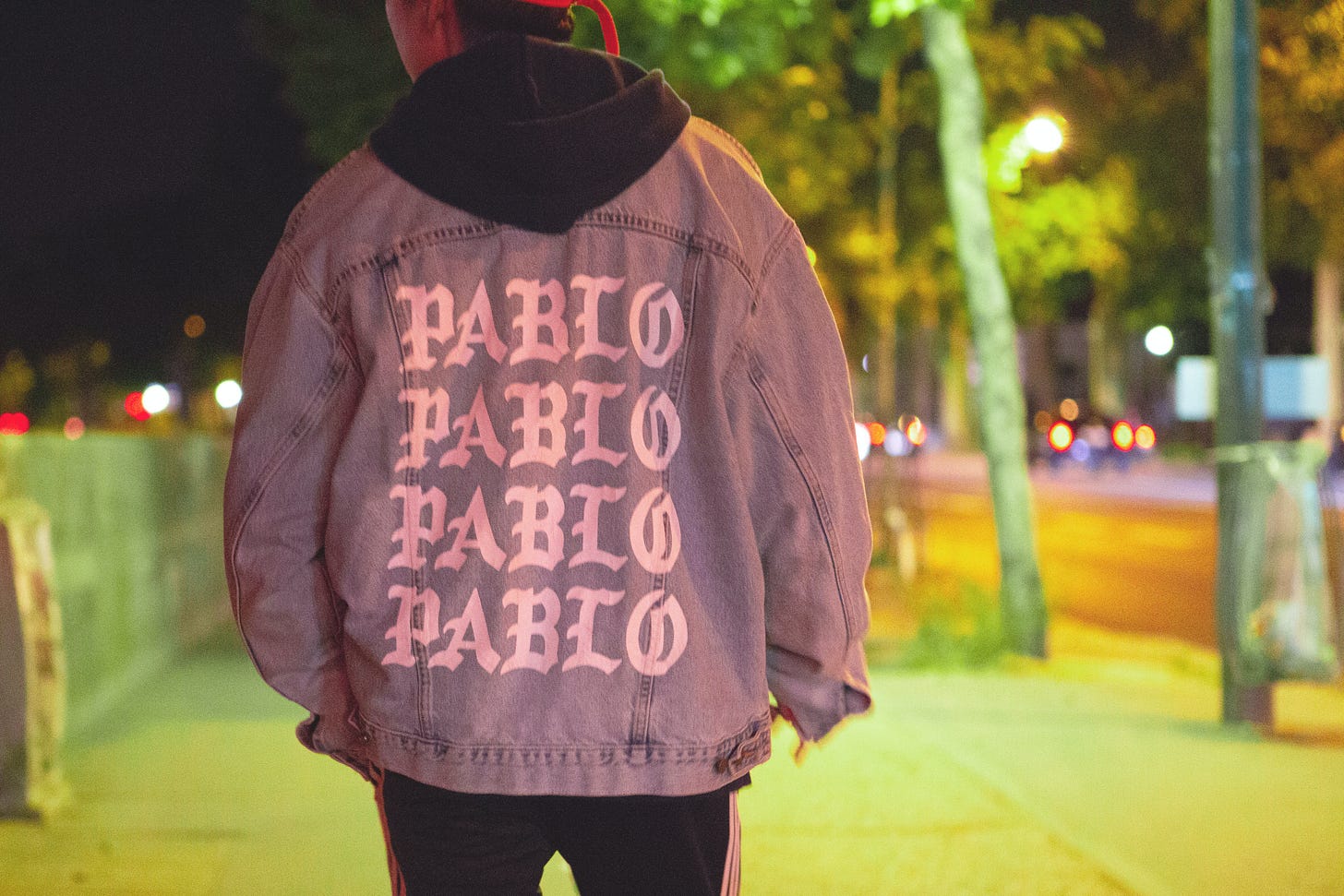 (Photo by Mark de Jong on Unsplash)
Kanye West is an absolute master at testing the waters. Another Yeezy 451 sample popped up once again earlier this week and they look just as spectacularly bad as they did before.
Kanye West needs to send this one back. They're bad These shoes were roasted into oblivion on Twitter and rightfully so. These joints look like dumplings.
If you ask me? This leak is probably another test run. Just testing the waters for something that's coming soon.
This isn't the first time we've seen this shoe. It's even gone through a name change at least from the 450 to the 451.

They were supposed to drop in 2019 after Ye wore them at Paris Fashion Week last year but never did.
It's no coincidence that this shoe keeps leaking, but Kanye hasn't dropped it yet. Each time we've seen it, it's been roasted into oblivion.
Leaked pictures are intentional. Especially with Kanye, whether it's a random picture posted on Pyrates or a paparazzi flick. We're good for, at least, a few of these per year.
There's good reason. They cover two bases:
Leaks give people a look at an upcoming drop and drum up hype for other pieces that may be on the way.

They also give the creator or designer a feel for how the public is reacting to a new drop that may be on the way.
Some samples may never see the light of day like that sock prototype we keep seeing him in. Others get new life like the Yeezy Croc.
We're probably getting this shoe at some point. The question is when. If Kanye cares anything about what we think about this? Maybe not anytime soon.
---
Need some inspiration? Tom Sachs got you
Being quarantined in the crib is tough, man. It's hard to find inspiration sometimes, especially with different creative endeavors
One of the things that helped me out was Tom Sachs' Instagram.
For those of us not hip, Sachs is a contemporary artist who has also designed sneakers for Nike. You know, all the Mars Yard stuff? That's Sachs.
He's worked with Nike to turn his IG account into an inspiration hub. He's filmed a bunch of videos he calls the "In Situation Resource Utilization" series where he just, well, kind of does shit teaching people lesson's in creativity.
This weeks lesson is in repair.
At the end of the week, he posts recaps sharing results fans are sharing with him after applying some of the nuggets he drops to creations in their lives.
It's kind of weird, but also a pretty neat thing to kind of see the results of other creative processes. That kind of stuff gets me out of a rut, and maybe it'll do the same for you if you're in one.
In the meantime, Tom, can we please get a restock on the Mars Yard 2.0? Please and thanks.
---
THE GRINCHES BYKE?!?!
Y'ALL. This is not a drill. I repeat, this is not a drill. The Kobe VI Grinches might be coming back — as soon as next year!
Sole Heat on Feet routinely gets the scoop on drops and they're calling a return for the Grinch in 2021.
Y'all. This is probably the greatest Christmas Day shoe ever. And it's easily the greatest in Kobe's line. If Nike has real plans for this returning? Man.
We still have to wait and see. This ain't official until it's official. In the meantime, MY SOUL IS READY.
---
#TheKicksWeWear
Y'all KILLT it. Yet again. Ain't a better kicks community out there, fam. I swear.
The homie Shawn P killed it with the Volt Air Max 95's. Shame on Nike for trying to make a Jordan out of these.
Our homie Sumeet makes these LeBron Icons look incredible with the Pat Knicks socks.
J Block kills it as always. This time the homie popped out with the Nigel Sylvester 1's. Why we didn't get more of these joints?
The better Mike came through with the VaporMax Flyknit joints. My man said he's walking on clouds.
Big shouts to our homie Dandin whose birthday is today! My man came through with the Snakeskin cocoa AF1s.
The homie Julian kills it as always with the Blue the Greats. One of the best J releases last year, man. Make sure yall subscribe to Keeping Stock.
The homie VividDope came through with the Bred 11's. Joints is classic, man. Timeless.
Then the homie Tyler Tynes came through with the Royals. Mans might have ever pair of 1's. I'm not sure.
Then the homie Breeze took us home with the Virgil 5's. All of a sudden, I feel broke as hell.
Told you y'all crushed it! Give yourselves a pat on the damn back.
---
Thank y'all so much for rocking with the boy on this glorious Friday morning! I appreciate your time.
800 is right around the corner, family! Tell a friend to tell another friend to subscribe to the Kicks You Wear! Just click this button right here.
Have a fantastic weekend and be safe out here, family. As always, peace and love. Be easy. Be well. Be kind.
Signing off.
—Sykes 💯