The Kicks You Wear, Vol. 10 — We got the answers, Ye
We got somewhat of an answer on Yeezy
Good morning! Happy Friday! I hope you all have had an amazing week so far. Let's cap it off with a great weekend, y'all.
Today's shoutout goes to my guy T.J. McBride who actually managed to cop the Fearless Jordan 1's! Turns out I was wrong — I did know someone who got 'em. Show my guy some love.
With that out the way, let's dig in.
---
The numbers don't look great for Yeezy, but there's a reason why 📉
(Yeezy 380s via Sneaker News)
Last week I told y'all that we should be keeping an eye on Yeezy.
We were getting so many different numbers from so many places it was getting hard to know what to believe. From what I read and saw, I thought there was a chance that it wasn't actually doing as well as we may have been led to believe.
Turns out I was right. Yeezy isn't doing big numbers right now.
E-commerce sales also dipped lower in Q3 from Q2, dropping from 37 percent to 14 percent according to the report.
Adidas Execs are saying the decline isn't concerned about the step back. There wasn't a massive restock or launch like last year's Cream White 350 v2s restock. West and Adidas promised their consumer base more Yeezys a year ago and delivered on that. This year they chased exclusivity again.
As we discussed last week, exclusivity is the business model for Yeezy and Adidas. The more Yeezys become available, the less appealing the shoe actually becomes. This is a tried and true practice of the sneaker industry, so that's reasonable to believe.
I still don't know if I buy that all the way. I don't think Yeezy is in danger or anything, but this is definitely something that is a bit concerning to me.
No, there hasn't been a wide scale release. But Yeezy has released more models than it has in the past in more colorways. Maybe I'm wrong, but shouldn't that make up for the absence of a big restock?

The 700 v3s dropping next month are rumored to be retailing at $180. Yeezy typically gets $200 and up unless we're talking about the Powerphase. That's…fishy to me.
As we said before, the point of Yeezy isn't to do big numbers — its to put Adidas back into the hype conversation. But I don't know if that's working right now.
As far as that "halo effect" goes footwear sales are only up by 1% and Yeezy's slow growth is part of the reason why. Yeezy isn't boosting the brand right now — people aren't buying Adidas like they were before.
We'll know more about Yeezy's place in the culture as we get numbers on what the brand's secondary market looks like. They still ring off on StockX and GOAT and still sell out at retail pretty quickly.
I could be totally off here. It just feels like there's something more we're missing. I'm determined to figure out what it is.
---
Bonus: Speaking of Yeezy….
These Yeezy Clogs are just so incredibly head ass. They're made from algae, which is pretty cool. But, fam. Ain't no way I'm wearing these shits. Ever.
Ye, fam, please. Just….no.
By the way, the Black 350 v2s are restocking on Black Friday. That'll be interesting to watch.
---
Yo, Gen Z. Y'all gotta chill with these Crocs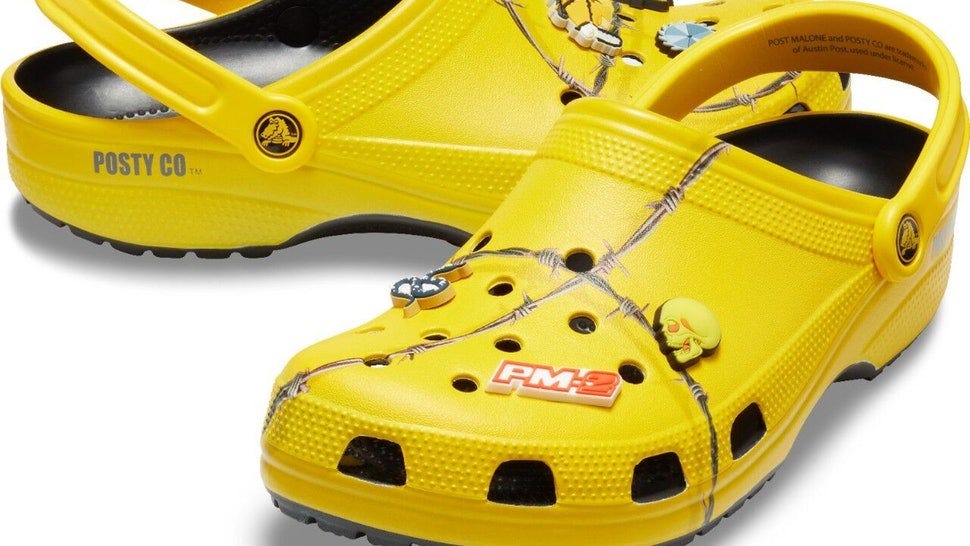 (Post Malone's Crocs via Crocs)
Those of you who know me well know that I absolutely cannot stand crocs. They are an abomination. Like, literally, they are just ugly. I can't do it. Just put on a pair of slides.
I'm not their target demographic, though, as a 26 year old broke ass millennial. Nope. They're feasting on Generation Z, according to a report from Footwear News' Samantha McDonald.
With the rise of "ugly" fashion, Crocs has seen a steady resurgence, noting second-quarter sales in August that grew in the double digits across wholesale, retail and e-commerce. Overall revenues were up 24.2% on a constant currency basis. The company has also ramped up collaborations with a wide range of brands and A-listers including rapper Post Malone, who was named in Piper Jaffray's study as the No. 14 favorite celebrity.
That's not all. In Piper Jaffray's semiannual "Taking Stock with Teens" survey, Crocs jumped from 19th to 7th most popular in the footwear category alongside New Balance for Gen Z. Teens really, genuinely love Crocs.
This growth isn't surprising as much as I hate it. Nope. This isn't a get off my lawn moment. It isn't the first thing I don't understand about teens and it certainly won't be the last. But I do get the appeal of Crocs for people.
They're super comfortable shoes and don't take much effort to put on. Even though I hate the way they look and would never be seen in them, I have to admit to that. That's half the battle.

They're also customizable. People put Jibbitz charms in their Crocs and that makes them different from almost any other piece of footwear — you can customize them on the spot at at a moments notice.
They captured Gen Z by making themselves look cool. They built a 21st century marketing strategy and executed it better than a lot of your favorite sneaker brands.
They tapped on celebrity endorsers like Post Malone and Priyanka Chopra to make their product cool. Sound familiar?

Like Puma, they gave their endorsers a product along with creative control and let them turn their shoe into art. Post Malone has a fucking signature Croc. It's unique to him. That's weird but also genius.
With "ugly fashion" and normcore being a thing, Crocs carved themselves a niche in today's footwear scene. I can't say I'm in love with the fact that Crocs are still a thing, but I do have to admit that seeing their rise has been pretty fun. It's genius, really.
Still, you won't catch me in em.
---
The Kyrie 6 has finally arrived 👁️
My favorite part about covering the sneaker game is watching the individual sneaker journeys that athletes and entertainers go on. I love seeing how their sneakers evolve and figuring out what stories they tell. That sounds corny as hell, but it's real.
I think Kyrie Irving and Nike have been the absolute best at that with all five of his sneaker drops. The sixth looks like it'll be no different. He debuted the Kyrie 6 on the court earlier this week and it didn't disappoint.
Here's what the joint looks like.
(Kyrie 6 via Nike)
This joint looks like 90's basketball. The midsole and strap on the upper just give me a throwback feel with these. It was designed by Benjamin Nethongkome, who has done Irving's last three shoes.
This joint is so incredibly Kyrie Irving. The shoe still comes with the same trippy ass all-seeing eye logo in the sole and the same 360 traction design from heel to toe. There's also a healer's hand on there somewhere.
It represents everything he is as a basketball player and as a person. Electrifying and eccentric yet also very weird and quirky.
Nike always snaps with Kyrie's colorways so I'm excited to see how this one goes. They've already got a preheat collection dropping soon. Not gonna hold you, slim — it goes crazy for a basketball shoe.
With Kyrie's shoe out nearly every active Nike basketball athlete has unveiled their signature shoe for the 2019-20 season. We've seen Giannis Antetokonumpo's Freak 1, LeBron James' LeBron 17, and obviously Irving's latest.
Paul George is up next coming sometime in January. Kevin Durant's shoe will follow closer to May — though we won't see him on the court.
---
Alexis Morgan and DaBaby are the combo I didn't know I needed 🤣
But holy shit did I ever need them. This Foot Locker spot is incredible.
For those of you who don't know, Alexis Morgan announced she was pregnant a few weeks back.
Shoutout to her and her family! Always good to see a beautiful, healthy new baby on the way. In this spot, someone sent her some dope Air Forces as a gift for the newest member of her family.
"Aw. These will be perfect for the baby," she starts off.
And then DaBaby comes out of nowhere and ruins that shit. "It's DA baby. DA. Baby. Get my name right." WHAT!? Lmao.
First of all, where did he come from!? Second, I need more of this. Inject it into my veins.
In all seriousness, this is another really dope commercial which, again, we don't really get that much of these days. I'm glad to see folks adding a bit more color to their spots — it isn't just athletes athlete-ing. I'm actually laughing!
Ya love to see it.
---
Good luck: The Blue the Great AJ1 drops tomorrow 🙏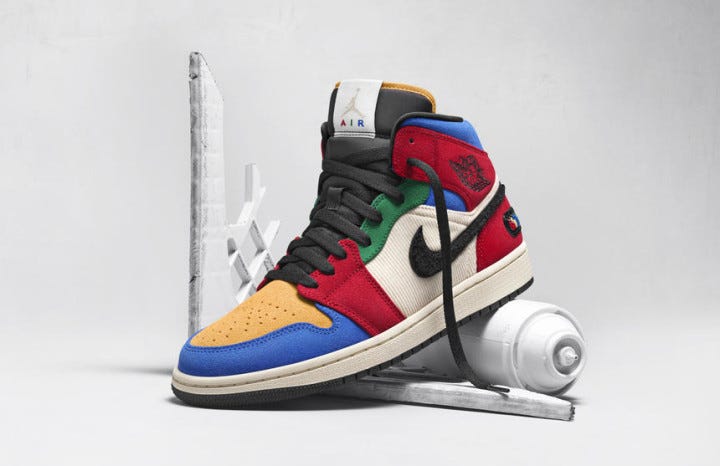 (Blue The Great AJ1 via Nike)
Set that alarm for 10 a.m. Hopefully, you can get em. Prep that SNKRS app. Get your payment info ready. Make sure that shipping address is set. Put in that password. Move swiftly, y'all. We can't mess this up.
This is me wishing y'all good luck. I love these because I love corduroy. I might make an attempt to cop, but we'll see (read: I'm going to try and fail). You'll know how my morning went depending what my first few tweets look like.
---
Alright, y'all! It's a wrap for your boy. Thanks again for reading. Tell a friend to subscribe here. Don't forget to share!
Talk to you on Monday! Be easy. Peace and love.
Signing off.
—Sykes 💯