The Kicks You Wear, Vol. 11 — Make basketball cool again
Please?
Good morning! Happy Monday! Welcome to the Kicks You Wear. Hopefully you're reading this from the couch because you're off from work on this glorious Veterans Day. If you're working, my bad yo.
Today's shoutout goes to all the veterans! Thank you all for your service to this country and for doing what can often be thankless work. We are forever indebted.
With that out the way, let's dig right in.
---
We've got to find a way to make basketball shoes cool again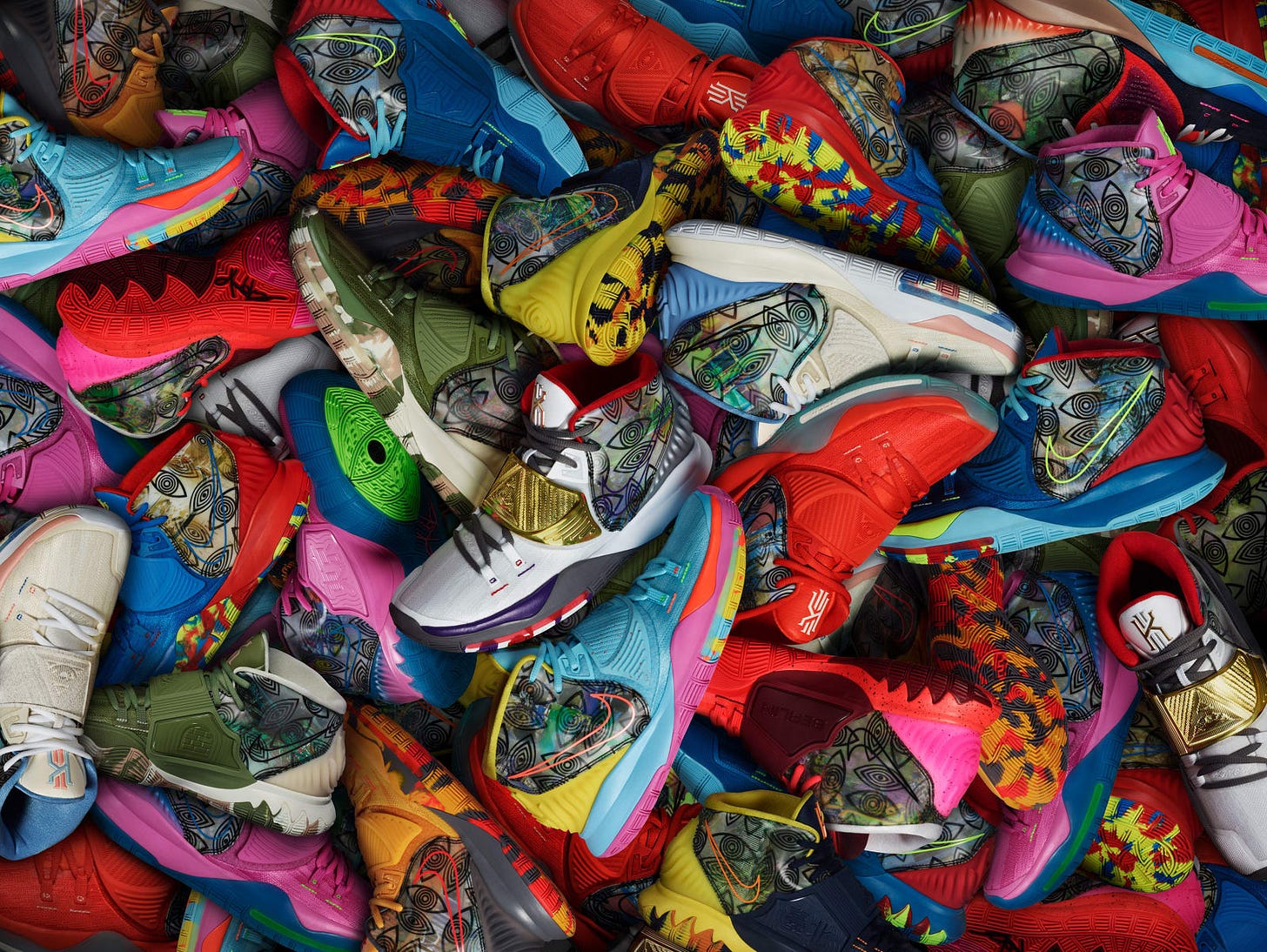 (Kyrie Irving's preheat collection via Nike)
Last week's big Kyrie 6 drop got me thinking a lot about the state of basketball shoes again. They've fallen so far.
Just going back to the LeBron 17 example, it just isn't a good looking shoe. Wearing them casually is impossible. They're built for hoop. That's fine and it meets an end, but it doesn't leave a lasting impression on the consumer.
It's not just LeBron's shoe. Basketball, overall, doesn't really sell anymore. Volume 1 of KYW covered that extensively.
Solutions are few and far between, but recently I had a Twitter conversation that made my try and think of some.
Initially, I thought great design could work. But we've seen great design before. It isn't really doing the trick.
As streetwear expert and analyst Justin Gage notes above, if any of the Kyrie Irving Pre-Heat designs were on an Air Force 1 or something more congruent to the streetwear scene right now, they'd be a much bigger deal.
It's as if shoes are stuck between two eras. It's weird.
The color palettes are extreme and vibrant just like the ones from the earlier part of this decade. Think the South Beach LeBron's or the Aunt Pearl KD 7's. Even as far back as the Bruce Lee Kobe 5's.

Again, they're also only built for sports. The knit and mesh materials they use give athletes the ultimate support, but don't make for a great wearable sneaker. The patent leather materials of the 90's did — that's why they're still being retro'd today.
You can't stop using those premium materials to build athletic footwear because they're getting bigger, stronger and faster year after year.
Another solution brands have tried is creating alternate shoes for athletes that are a bit more on the streetwear and fashion side of things. Think about the LeBron Icon series or Stephen Curry's Curry Lux. Even Victor Cruz's Air Cruz.
The secondary market says that strategy isn't working either.
Let's look at LeBron's Icon. It retailed for $250. On StockX right now the lowest ask for it is $199. With Curry's Lux, the highest bid right now is $58. Most of Cruz's shoes are selling for less than $100. No one wants these.

How many people know these exist? When we think of athletes, we think of what they wear on the court. It's rare to see one of these other shoes off of it.
It could just be a sign of the times. Basketball's time might just be through and, honestly, brands might be okay with that. They aren't hurting otherwise and they aren't rethinking athlete endorsements just yet.
They'll need to figure something out at some point, though, because they're dumping a ton of money into signature athletes and their shoes.
Some thoughts on fixes:
Turn LeBron James into Travis Scott: Maybe LeBron James should create his own Air Force 1 like Travis Scott. Let James Harden design his own Yeezy. That's not exactly "fixing basketball" but it is putting a spotlight on signature athletes in a new way that builds up equity with the casual consumer interested in lifestyle.

Make basketball exclusive: What if Nike limited the number of signature shoes available for people? Hoopers would have access to the Hyperdunk and other casual Nike models, but signature shoes would only be available in player exclusive colorways and would be hard to buy. That could gin up more interest, even if it cuts product short for a while.
Neither of those are guaranteed fixes but they're strategies that we've seen work in other areas that could potentially be applied here. It's a tough situation. There's no light at the end of the tunnel just yet.
Right now, it seems, the best hope is for waiting until fashion swings back to basketball. Don't hold your breath, though — that might take a minute.
---
It's Ugg SZN again…for everybody 🥾🥾🥾
(Lil Wayne's Bape x Ugg collection via Ugg)
A decade ago it was unfathomable that a man would be spotted out anywhere in a pair of fuzzy Ugg boots. Today Uggs are everywhere on everybody, writes Jacob Gallagher of the Wall Street Journal (subscription).
For most of the last couple decades Uggs have been marketed as a product aimed toward women. They've always had a Men's section but it slowly faded to the back burner in the early 90's.
Today, men are in Uggs again. Tom Brady kind of changed that in 2010 when he signed on as an endorsee for the brand, but also not really. Brady ain't that cool, if we're being honest about it, and isn't really the type to be able to sell a fashion product.
The real shift for Ugg's men section came in 2016 when Andrea O'Donnell joined Deckers (Ugg's parent company) and made the decision to shift away from Brady as its face for men and move to focus on high fashion.
They swapped Brady out in exchange for some pretty dope influencers including rappers like Lil Wayne, who just dropped a Bape x Ugg collection last week.

They also tapped into the sneaker market while moving away from fuzzy slippers. That's the big thing here. They have 27 different models available today. That's something Ugg strayed away from in the past.
So far, the strategy has worked, Gallagher writes.
The men's business is not inconsequential: In 2018, it generated over $200 million in revenue. This year, Ugg estimates that sales of its men's products will make up 13% of its total revenue. On Instagram, the @Uggmens account has nearly 40,000 followers, a respectable figure, though still far behind the million-plus people that follow the main @Ugg account.
The big picture here is that the sneaker market is booming. The retail market for sneakers is growing and the secondary market is worth billions. Everyone wants in on it. It can transform a company.
This isn't unlike what Crocs did to tap into Gen Z. They found a niche, found influencers to wear their product, and created a new audience from it.

That's the same model Adidas built out with Kanye West and it's what we've seen sneaker companies do for a majority of the last decade.
My take: It's great to see sneakers doing so well as they've shifted back into mainstream culture. I only wonder how long it lasts before it becomes gimmicky. First Crocs, now Ugg and Decker. Everyone is jumping in here. Who's next? There's a bad move waiting somewhere around the corner.
Remember when Jay Z dropped the S Dots? That was bad. All we have to do is not get to this point and I'll be satisfied.
---
Mary Cain nails the coffin on Nike's Oregon Project
Goodbye and good riddance, honestly. Former running prodigy Mary Cain accused Nike Oregon Project director Alberto Salazar of urging her to lose weight to unhealthy levels in an abusive manner. She told it all a New York Times in an OpEd last week.
Watch that here:
Cain was already a phenom before Salazar got his hands on her. At 17 years old she became the youngest American track and field athlete to make a U.S. World Championship team.
She signed with the Oregon Project in 2013 but had already begun training with Salazar in 2012. She worked with him until 2015, per the NYT.
Shortly after she dropped her account of Salazar's abuses, Nike said it would investigate the "deeply troubling" allegations levied against their former coach.
Cain's account on the abuses she endured from Salazar are downright abominable, y'all. It's repugnant. Just read this, man.
In the video, Cain, 23, accused Salazar of shaming her in front of others on the team when she did not reach the required weight targets. She said that her low weight caused her to miss her period for three years, leading to lower levels of estrogen and five broken bones.
It's not just Cain, either. The Times is reporting that there are other runners who have come forward with similar accounts to Cain's.
I honestly don't know what the worst part about this is to me: The fact that someone could do this to others or the fact that an institution as massive as Nike would empower someone like this, either knowing it's going on and not stopping it or being unaware of it. Both are extremely bad.
Salazar and the Oregon Project are done — at least for the near future. The coach was suspended for four years because of antidoping violations and the project was shut down shortly after. Salazar denied those allegations and he's denying these, per the Oregonian.
"Neither of her parents, nor Mary, raised any of the issues that she now suggests occurred while I was coaching her. To be clear, I never encouraged her, or worse yet, shamed her, to maintain an unhealthy weight."
Nike also released a statement. Make of it what you will: "Mary was seeking to rejoin the Oregon Project and Alberto's team as recently as April of this year and had not raised these concerns as part of that process."
I'll be glued to this investigation and whatever else comes from it. This certainly isn't the last we'll hear of it. This is a prime example of winning being prioritized over the health and well-being of an athlete and that's something we see all too often in sports — especially with young, budding stars.
We have to be better as a society. Because this shit really just ain't it — plain and simple. This cannot happen. Lives cannot be ruined like this.
---
A great sneaker read to start your week 📖
Being a sneaker head is tough these days. People feel like there are all of these things you're supposed to know about the culture and all these sneakers you're supposed to have.
That's honestly the thing I hate most about this culture that I love. It's tough for people to break in because of these expectations. We shame people for being new.
That's why I loved this piece from sneaker industry OG Russ Bengston on why he cut back from the thousands of pairs he was wearing to just one — a single model. The Adidas Campus 80's.
Here's a taste:
Sometimes I look at sneakers the way Mickey Mouse looked at the brooms in The Sorcerer's Apprentice. We only had so much, so we wished for more. And at first more was good, but then more became even more, and more, and more, and finally too much, and by then there was no way to stop it. I look at the way things are now—blogs posting "The 25 Best Sneakers Releasing This Weekend and How to Buy Them"—and wonder whether there's even a sorcerer out there who can save us from ourselves.

I can't save you. I don't even know whether I can save myself: I still get caught up in new releases, still log onto the SNKRS app to get a series of error messages before tossing my phone aside. But in the meantime, I've been trying to do something different: is take one of the thousands of "you can wear these every day!" sneakers and doing exactly that.
Russ is so fucking good at this, y'all. Read the piece here. I promise you'll enjoy it. The joys of basic sneakers, fam.
---
What's droppin' bruh 🙏
This is a MONSTER drop week, y'all. Stay vigilant. Set those calendar alerts and those alarm clocks. We coming out with W's this week, fam.
Good luck, y'all! We got this!
---
That's all, folks! Thanks again for reading. Tell a friend to subscribe here. Don't forget to share!
Have the best week ever! Be easy. Peace and love.
Signing off.
—Sykes 💯