The Kicks You Wear, Vol. 12 — Nike is just doing it...without Amazon
Diving in on Nike ending its partnership with Amazon
Good morning! Happy Friday! You made it to the end of the week. Welcome to volume 12 of The Kicks You Wear. Thank you for giving me a little bit of your time today.
Today's shoutout goes to everyone who managed to get their hands on the BRED 11's yesterday during Nike's surprise drop. Shoutout to all six of you. I'm kidding mostly! Seriously. Enjoy em, family.
With that out the way, let's dig in.
---
Nike is just doing it…but without Amazon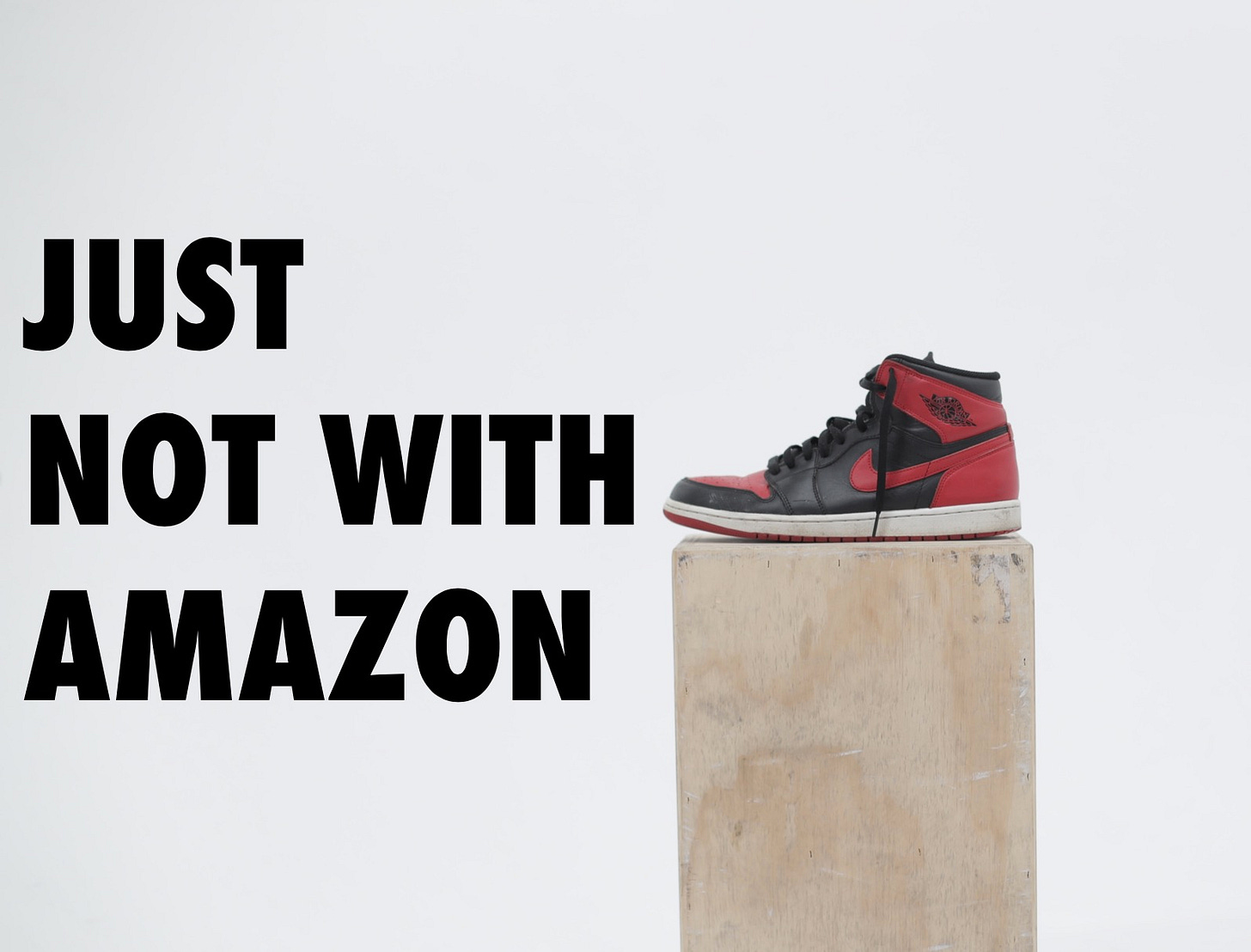 Back in 2017 Nike and Amazon entered into a partnership. Nike agreed to sell Amazon its products and, in exchange, they'd basically get to police the the e-commerce giant's third party sellers and stop them from selling fakes.
Turns out that hasn't worked. And since it isn't working, Nike announced earlier that the partnership was done for.
Amazon has a problem. Third party retailers are running rampant selling gray-market and fake merchandise on their website. The thing is they don't really view it as a problem — they've never really policed it.
Nike isn't the only retailer that has experienced this issue with Amazon. It's commonplace, which is problematic if you're selling them your stuff.

The payoff just wasn't worth it anymore. Official Nike products weren't getting reviews and so they also weren't getting higher placements on the site, the LA Times reports (subscription). That, along with the issue of fakes, ended the deal.
This deal mattered. Not only because Nike was a huge company that finally acknowledged the power of Amazon. But also because the footwear powerhouse made the deal while it was beginning to prioritize direct-to-consumer relations.
Nike dealt with more than 30,000 retailers that it sold its products to wholesale around the globe in 2017. They decided to cut that down to 40 and also decided Amazon was going to be one of them.
The partnership ending isn't great news for anyone. We really all lose because more fakes are about to pop up on the world's biggest e-commerce site, Recode's Jason Del Rey writes.
"The problem for Nike is, removing itself from the Amazon platform won't fix that problem. In fact, it's likely to get worse. Amazon will now look to acquire more "gray market" Nike products to fill in the inventory gaps Nike's departure will leave behind."
The big picture might lead us to a bit of a lesson. Someone actually said no to Amazon — that's huge. Right now in retail, everyone fears what Amazon can do. They're destroying brick and mortar while dominating the internet. You should be afraid of that if you're a retailer.
But, for whatever reason, Nike wasn't. They were Amazon's big, shiny object that showed other retailers how much power they had. Now they're gone.
Obviously, Amazon isn't going anywhere. But this is definitely a big blow and it might get them to rethink how they police counterfeiting and third party sellers.
Then again, it is Amazon. Every time they get caught red handed doing something foul, they kind of just keep chugging along. So, basically, we'll see I guess.
¯\_(ツ)_/¯
---
The house that Nike's Dunk built
There will never be another Nike SB. That's a big statement, but hear me out.
Nike's skateboarding division is what birthed our sneaker culture into what it is today. To repeat that means stripping what we have down and starting all over.
We're too far along to do that. There's too much money circulating and the business of footwear has gotten too big. The culture is almost secondary now.
Nike SB is what got us here, for better or worse. The Dunk's rise to prominence in the early 2000's created the concept of hype. It all started with a genius idea from Nike Exec and skating division leader Sandy Bodecker (RIP).
Nike took Dunks, Blazers, Jordan 1's and Bruins and turned them into skater shoes. They colored them in, attached fun stories to them and sold them in limited quantities in skate shops around the country. Sound familiar?

They used exclusivity and word of mouth to gin up interest in these shoes. There was no StockX or GOAT you could go to for them. You had to go in store, find them or get a date and come back later.
The emergence of the Dunk was good and bad. On one hand, it created something new and colorful that sneakerheads could get into. It was creative. It allowed art to enter the world of sneakers like it never had before. On the other, the hype Dunks created got to be a bit too much.
The Dunk that changed everything was Jeff Staple's Pigeon. People stood in line for days waiting for this shoe to drop. When they found out they couldn't cop it, people actually rioted in the streets because of it. Justin Block has more here.
On February 22, 2005, the release of Nike SB's hyper-limited Jeff Staple "Pigeon" collaboration in New York City's Lower East Side—inspired by the city's ubiquitous bird—was cause for a burgeoning sneaker culture to flood Manhattan's streets in a lineup so chaotic, it makes Thursday's at Supreme look like church. The date is observed in hypebeast lore, and depending on your reading of history, marked the emergence of sneaker culture and hypebeasts onto the national media scene. Thirteen years later, the impact the "Pigeon" release had is no less than a watershed moment in sneaker history.
That moment put the good, bad and ugly of sneaker culture on a national stage. That hype continued on later in the decade — think the Space Jam 11 launch or the Galaxy Foams. After that, we got raffles. And after that, we got sneaker apps. And now we're here.
It's my belief the Dunk is the very best we have in the culture. It's the most creative model we have out and it takes storytelling to another level in sneakers. With that said, I still have to acknowledge that it's where the concept of hype started and why we are where we are today.
Dunks are making a comeback in the culture, slowly but surely. I won't lie to you, though. None of it really feels the same. The hype has moved on as time has gone by. Instead of Dunks, now it's Yeezy and Off-White x Nike.
I'm okay with that. Especially when I find good pairs on StockX for the low.
---
Yeezy x Basketball OTW
Y'all, I swear I'm not trying to write about Yeezy and/or basketball every other newsletter but I swear stuff just keeps popping into my mind.
Basketball and Yeezy will unite this winter when the Yeezy Basketball model finally drops in February 2020. We've seen this shoe a bunch over the years on Kanye West, but now we actually have a date that comes with it.
The shoe will drop in early 2020 — potentially in February during All-Star weekend in West's home town of Chicago. That would be fun.

There were reports late last year about the shoe potentially being banned from the NBA because of the reflective heel, but that's not official. No declaration has been made on the shoe til this point. I'll tell y'all when that changes.
This is a pretty interesting pairing. As we discussed earlier this week, basketball needs a makeover. Right now it's just boring and ugly with a few good signature models here and there.
Yeezy would make things weird. This would be, to my knowledge, the first designer basketball shoe that would hit an NBA court. Of course, dudes have worn designer kicks before on court, but never something that was actually intended for basketball like this.
There's no signature athlete attached. Instead, West would be the big name. Adidas athletes will definitely be wearing this but I just don't know who.
Their big basketball names are taken. Damian Lillard, James Harden, Donovan Mitchell and Derrick Rose all have signature sneakers right now.

Who else is left? Maybe a guy like Andrew Wiggins? Jamal Murray? I have no idea. It has to be the right name, though. Yeezy and Adidas need people to see this shoe.
Keep an eye on this. I know one thing — they better have some good grip. I'd hate to see someone out there getting slid in these (Read: I really hope someone out there gets slid in these. Twitter jokes rule).
---
TODAY IS THE DAY. MELODY EHSANI IS HERE.
(Melody Ehsani Jordan 1 via Nike)
DO NOT FORGET. The Melody Ehsani Jordan 1 is dropping TODAY. 10 a.m. ET sharp. You're getting this well before then — you have no reason to miss this.
I've got to say, I've enjoyed seeing y'all come up on the Fearless collection. I'm still plotting on the Ghetto Gastros — they're still just sitting there in SNKRS as I type this and the price keeps dropping on StockX and GOAT. I'm also definitely copping the Blue The Greats on resale, too.
Anyway, look, we've made it this far. I know a ton of you have been plotting on these. Go get 'em. They're only $130. You got this. Your bank account won't be mad…probably.
---
So, look. I need your help with something
No, I'm not about to ask you to send me money for shoes (just yet). I do want to do something fun with you all, though.
I want to see what you're seeing throughout the week. What are you wearing? What are you seeing on the court? Show me! Let me see #TheKicksWeWear.
Let me break it down for you:
I love y'all and I love interacting with y'all and now I want to take it to the next level. Let's have fun with it. Send me pictures of cool shoes that you're seeing — whether that's on the court, on the street or on your own feet!

Use the hashtag #TheKicksWeWear on Twitter and/or mention me and I'll pick out my favorite submissions to put in the newsletter every Friday. I wanna see some cool shit and share it with the community. Let's build this up together.
My guy TJ McBride gave me this absolutely brilliant idea, so shoutout to him. I hope to see a ton from y'all this week! (If I don't, I'm finna come right back begging again next week. Don't leave me hanging plz lol).
I love y'all, man. Let's celebrate our culture.
---
That's it for me this week! See you on Monday, beloved! Tell a friend to subscribe here. Don't forget to share.
Be easy. Be kind, always. Peace and love.
Signing off.
—Sykes 💯