The Kicks You Wear, Vol. 18 — High-fashion, bad sneakers
The price tags ain't matching the quality.
Happy Friday! Welcome back to the Kicks You Wear! Thank you so much for spending a bit of your Friday morning with me. Shoutout to you for making it through the work week without losing your mind.
Today's shoutout goes to my fridge, who has done the Lord's work by keeping my Thanksgiving leftovers nice and refrigerated all week. That's right, y'all. I'm still eating Thanksgiving food a week later. Sue me.
With that out the way, let's dig in. (See what I did there?)
---
High-fashion gotta do better
(Photo by Max Anderson on Unsplash)
Whenever we get these high-priced, designer collaborations, they always seem to fall short of what we actually expect them to be.
Last week it was Prada and Adidas. This week it's Jordan and Dior. The highly anticipated Dior x Jordan 1 collab was leaked earlier this week by none other than Travis Scott.
Designer Kim Jones released more details shortly after on Instagram, giving us a closer look at the shoe.
The shoe comes with the Original Dior jacquard patterned swoosh, has transparent soles and a bunch of other original Dior branding on it.

It's also an AJ1, so it's really hard to mess this design up. They didn't. It looks just fine and, I'm sure, is a high quality wear.
At the same time, I can think of almost 100 other Jordan 1's that I'd rather wear this this one. It's a good shoe, but it's definitely not what the hype made it out to be. It doesn't really stick out.
When you factor the rumored price point of $2,000 at retail, it's a non-starter. It's hard to justify this shoe being worth it, other than it being cut from the Dior cloth. It's the same thing we saw with Adidas' Stan Smith collab with Prada.
Here's the thing. High-fashion is all about the name and the designer. It's who you're wearing, not what the thing actually is. The materials are typically premium and of great quality, but the shoe is often just not that exciting.
That's not what sneakers are about. Sneaker culture was born from the underground — it's counter culture. Sure, it's pivoting away from that and becoming more mainstream. Names absolutely do matter in sneakers, but not as much as flare. Not as much as eccentricity. Not as much as the artistry. That's what makes a collector's piece what it is.
Sometimes high-fashion brands do things right. As ugly as they are, I think Balenciaga was on to something with the Triple S. Adidas has some nice joints with Alexander Wang. It's possible.
High-fashion and sneakers will always run together. You can read more about those ties here. They're both deeply embedded in hip hop culture and intersect more often than not. It's just hard to find collaborations that work between the two.
Maybe that changes soon with names like Rihanna and Virgil Abloh climbing ladders in the high-fashion scene. They both were born from a culture that has risen from the underground into the mainstream. Their contributions are already being felt all over the design world and they're both just getting started.
Either way, I'm going to need somebody to do something about these Jordans and those Adidas before I have a tantrum.
---
Sneaker trends of the next decade
(Photo by Erik Mclean on Unsplash)
We're only a few weeks away from diving in to 2020. That means a whole new decade of sneaker trends is on the way.
Last decade it was Jordan. This decade it was Kanye West and Yeezy. What's next? I honestly have no idea and I'm not brave enough to guess. Luckily for y'all, Sneaker Freaker was. Let's go over some of them.
Trend 1: 2000's kicks are making a comeback.
Takeaway: I honestly was against this…until I thought a bit more about it. I don't miss a lot of the funky, futuristic looking stuff we were wearing back then. But if this means we're retroing Dunks? Count me in.
Trend 2: Corduroy is in
Trend 3: Clear kicks
Takeaway: Absolutely not. Don't let me catch y'all.
One thing that I didn't see on the list was anything about Travis Scott. Kanye ruled this decade of sneakers and I think Scott emerges in a similar way in the next one. I'm on record saying he needs a signature sneaker. I think it happens next decade.
I also think Yeezy does surpass Jordan in the next decade as the premier name in sneakers. The brand is down right now, but it's positioning itself for a major rise in retail. I think we start to see more common things like Yeezy apparel, slides, crocs — stuff outside of sneakers. That's how it jumps to the next level.
---
Speaking of the Jordan…
It looks like we're actually getting the Air Ship. Hiroshi Fujiwara, the streetwear God, posted a picture on Instagram this week showing the Air Ship and the Air Jordan 1 in a pack.
(via Fujiwara's IG)
For those of you who don't know, the Air Ship was the shoe Jordan wore in 1984 before the AJ1 released in 85. It's the real first piece to Jordan's lineage in sneakers and the blueprint for the classic shoe people are still wearing today.
People LOVE this shoe. It was reconstructed earlier this year and people went crazy over it. There's even a petition out clamoring for a retro. Now we're finally getting it.
---
THE RAYGUNS, Y'ALL. THE RAYGUNS
The Rayguns are coming back! Nike has been retroing OG dunks for quite a bit of the last year and there were a few pairs that I was looking forward to potentially seeing. The Pigeons were one — I got em.
The Rayguns are another and you best believe I'm gettin' em.
Look at these joints.
The tie-die look is perfect, y'all. They're a tribute to the late Sandy Bodecker, who turned Nike SB into what it is today and pushed it into its prime. I'm sold. Gimme.
---
#TheKicksWeWear
Y'all know the vibes. We're back with #TheKicksWeWear. I gotta say, y'all really brought out the heat this week.
My guy Dap hit me and showed me his new kicks from the Sia Collective — a black owned Luxury Streetwear brand. I'm a fan. The reflective look is crazy.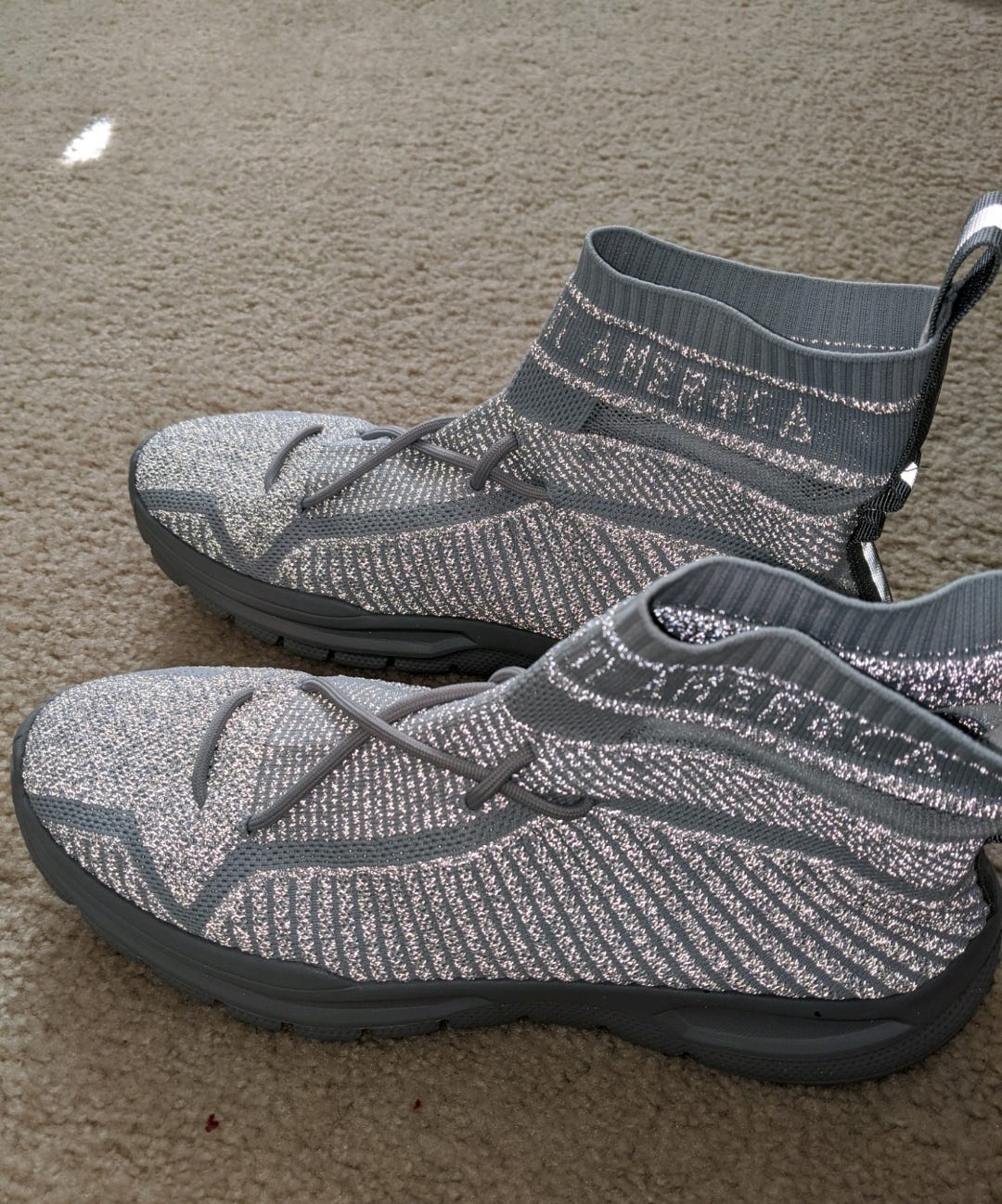 Black Tray really took it back with the Ice Creams. If you know, you know.
Shouts to the homie Adrian. Your collection goes crazy, fam.
Then the homie Rachel definitely flexed on us a little bit with these joints
Man, I gotta keep up. Slow down, y'all! (Actually, please don't.)
---
I love y'all so much, man. Thank you again for spending a bit of your Friday with your boy!
Tell a friend to tell another friend to tell another friend about The Kicks You Wear! See you on Monday.
Be easy. Be kind. Peace and love.
Signing off.
—Sykes 💯