The Kicks You Wear, Vol. 2 — Real eyes realize real lies
Going deep on the fake sneaker game
Yo! Good morning! Welcome back to the Kicks You Wear. Go get in that draw for the Travis Scott 6's today — let's get #TheBots out of here.
Big shouts to the Mystics who won their first WNBA championship last night. D.C. stand up!
Jumping right in.
---
Real recognize real, but fake sneakers make real money
Don't know if you caught this on Wednesday, but US Customs officers seized 14,806(!) pairs of counterfeit Nikes estimated to be worth more than $2 million(!!!!). Here's what they look like.
For those of you who don't know, these are replicas of Virgil Abloh's "Chicago" Jordan 1 colorway from his Off-White Nike collection. Those look like this. Not that easy to spot the difference, right? At least not for the untrained eye.
That's the thing about fakes. They're not too far off from the original and cost a little bit less — especially when considering secondary market prices.

For example, let's say you wanted to cop these Beluga V2 Yeezy's from StockX. Their average sale price is $691 but they hit retail at $220. The price literally tripled.
And that's exactly why counterfeit sneakers have become so lucrative. It's too difficult to cop shoes that are both authentic and exclusive at a reasonable price. It's the resellers and their damn bots.
Resellers use #SneakerBots to gobble up multiple pairs of exclusive shoes. They'd buy, say, 10 or 15 pairs of those Yeezys above and resell them online for double, triple or quadruple the price.

As you can imagine, that makes it extremely difficult for anyone who wants to buy a pair to actually wear them.
Buying fakes does suck, but people see it as a way to circumvent a broken system — right or wrong.
"Why pay over $1,000 for Yeezys when you can get a pair that looks the same for $120?" Kevin told the LA Times.
Don't get it twisted — fakes are still unacceptable. When you're caught with 'em on, you lose all credibility. People dedicate their whole lives to this. It's not just about owning a fire pair of shoes, it's about immersion into a culture. Fakes break that culture's sanctity.
There will always be folks who buy fakes, though, so long as the marketplace is this broken. If we fix it and get rid of the bots, there's less of a need for counterfeit kicks.
My biggest fear here, though, is that we're already too far gone. Why would a Nike or Adidas fix this problem when they're getting paid and keeping their best kicks exclusive? They're still raking in billions. For them, the system is fine and it's not changing anytime soon.
---
Bonus: I hate calling people out, but…
CBS doesn't have a culture reporter sitting around somewhere? Love y'all, but we gotta do better. They should know who Virgil Abloh is.
---
Saving the world one sneaker at a time
(Via Veja)
Shoes and sustainability have always run counter to one another. That's all starting to change, though — slowly but surely.
One of the leaders in that change right now is France's VEJA. The Condor, the company's headlining performance shoe of 2019, is made from 53% bio-based sustainable materials. It's pretty dope stuff.
"While the upper mesh material is made from recycled plastic bottles, the interior lining also from recycled plastic and organic cotton, and the signature "V" logo patch from castor oil, the sole remains 39% petroleum-based synthetic rubber (the remainder: 30% wild rubber and 31% rice husk)," Clay Dillow of Fortune writes.
The best part? They're not the only company diving headfirst into this.
Allbirds, Cariuma and Everlane are also creating sustainable products and moving in environmentally friendly ways.

They're also not charging folks an arm and a leg to buy environmentally friendly sneakers, which is a win for everyone. You get cool shoes, they get paid, we all save the world? Something like that.
Let's be real for a second. Climate change is the premier issue of our time. If it's not first, it's the second or third. Every little thing we do makes a difference. This stuff is important.
Consumer values are changing and sustainability has become a priority. Big dogs like Adidas and Reebok realize that and are moving accordingly, partly because VEJA and others are pushing them that way.
Most of your shoes are probably are made of a bunch of synthetic rubbers, leathers and plastics. When you don't wear them, they kind of just rot. You throw them away and they sit in a dump forever. That's terrible.
It's time for that to change. I'm glad to see how much progress we've made to this point, but we can do better. We will once Nike, Adidas and all of our other faves get even further on board.
---
Jesus walked on water…and apparently you can too?
(Via MSCHF)
So….there's a Jesus shoe? Look, y'all. I like creativity and always encourage folks to think outside of the box. But this is absolutely doing TOO much.
These joints were just a regular pair of Air Max 97's until Brooklyn's own MSCHF got a hold of them. They injected holy water into the air unit which is already insane — but there's more. The holy water was ALLEGEDLY pulled from the River Jordan …which flows into the Sea of Galilee…which was the water Jesus walked on.
And they're selling this? Yes, as I'm sure you can tell, I'm uncomfortable.
BUT WAIT THERE'S MORE. They also had the holy water blessed by a priest….in Brooklyn. And, as a cherry on top, they threw in a crucifix as a lace accessory.
These joints sold for a cool $1,425 at retail. Yes, I'm still VERY uncomfortable. Right now, they're going for a whopping $4,000 on StockX. I guess that's just the price you have to pay if you want to walk on water.
---
Don't let me catch you in these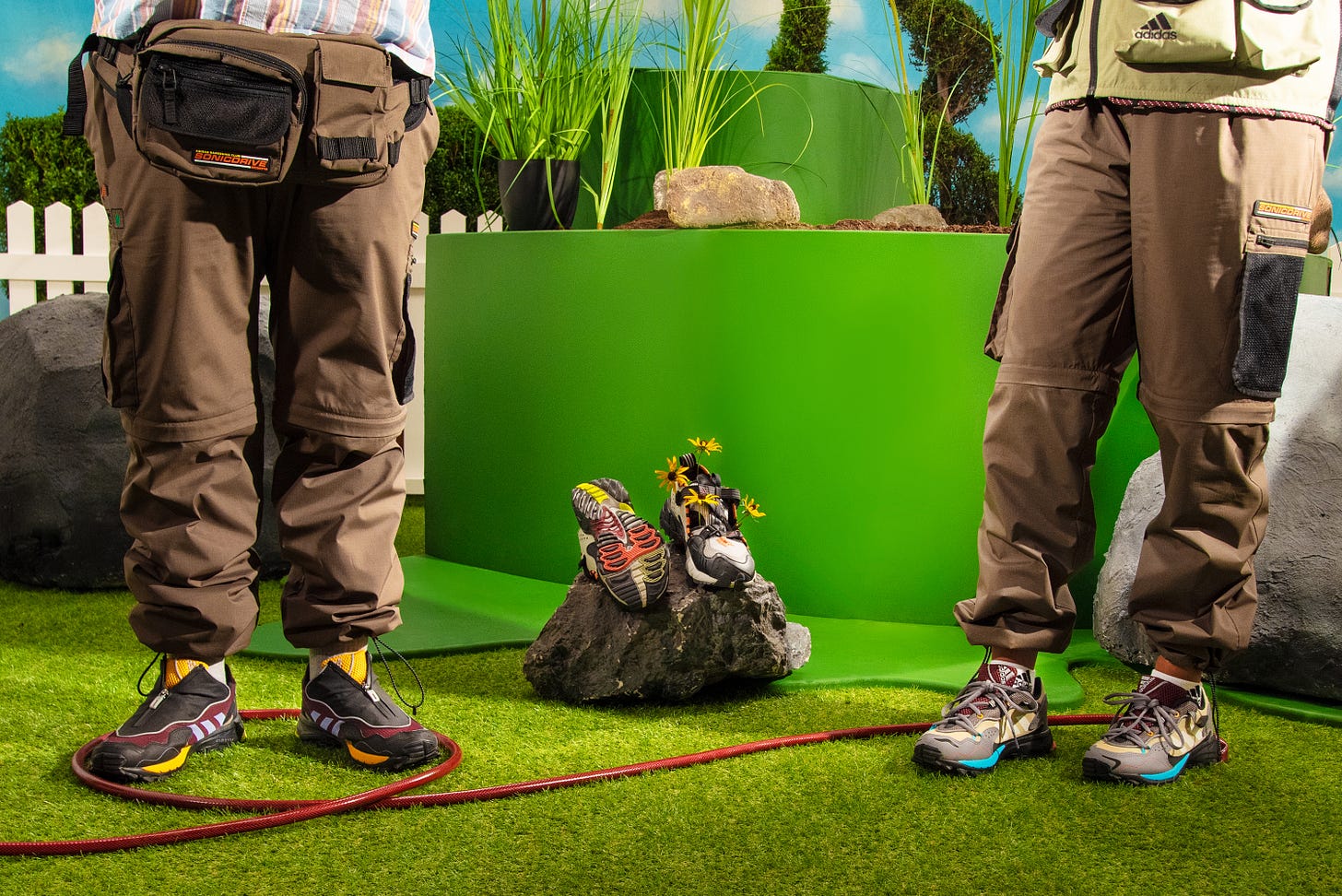 (Via adidas)
Adidas is dropping a set of gardening sneakers and I couldn't be more upset. I mean, honestly. I don't know what's going on over there in Portland, but they need to get it together.
I'm trying to figure out what we even call this. Lawn and garden chic? Can you buy these at Home Depot? I don't care. I'm good on these, y'all. Don't let me catch you in 'em. You finna get roasted if I see you.
---
That'll be it for Friday! Thanks again for reading the Kicks You Wear! Tell a friend to tell another friend to subscribe.
Signing off! Enjoy the weekend and see you next week.
-Sykes