The Kicks You Wear, Vol. 32 — Lets talk about Kobe's shoes
Stop hiking Kobe prices, dog.
Good morning, folks! Happy Friday! Welcome back to the Kicks You Wear. Thank you so much for giving me your time. It's been an extremely rough week, but we've made it through.
Today's shoutout goes to this audience. This week was incredibly shitty and, honestly, I feel like we all pulled each other through it as a community. I was so incredibly proud that we did that and we got through. Let's keep doing that kind of thing.
Also, I'm very sorry for sending y'all three e-mails last week. Substack was bugging out and did a bunch of sends of some drafts that were autosaved here. It was super weird and I felt like a jerk stuffing your inboxes like that. I'll make sure things are tighter from here on out.
With that out the way, let's dig in.
---
That dollar ain't worth it
The evolution of the sneaker resale market is one of the best developments the sneaker industry saw last decade. It was also one of the worst.
This week showed us exactly why. After Kobe Bryant's tragic passing on Sunday afternoon, prices on his kicks skyrocketed on aftermarket platforms everywhere.
And prices were literally doubling. I reached out to both GOAT and StockX to see if they had any available data on the surge — no response from GOAT and no data available from StockX.

So I did a check on a few pairs of my own via StockX. The lowest ask for Adidas' Crazy 1 from the Vino pack is $500 when it's last sale before Sunday was $100. Let's look at something more common — the Kobe 5 Protro Chaos. It sold for $540 on Thursday in my size (11.5). Last Saturday, it sold for $222.
If those numbers aren't enough for you just look at this.
These aren't people who had Kobe's sitting on their shoe racks, either. They bought up inventory from Nike almost immediately after the news broke that Bryant passed.
People are really profiting off of pain which isn't really anything new or totally unexpected, but it doesn't make it feel any less gross. It almost feels like an abuse of power.
This isn't like someone selling RIP Kobe t-shirts on the street, either. These shoes are being marked WAY up on the secondary market and you can't find them anywhere else now. You can probably walk outside and get an RIP Bean t-shirt right now.
This is the double-edged sword the secondary market is.
On one hand, we can buy deadstock pairs we've always wanted which is dope.

On the other hand, though, when a tragedy like this happens you're at the mercy of those same people who are fueled by money and, boy, do they love money. That's all that matters here. Not your grief. Not your pain. Just their green.
We can't ignore the fact that there are people who make a living off of the secondary market. They aren't here for the feels or the nostalgia you might get from a shoe and that's totally fair. It feels like there's a better way to do this, but there's not. That's the reality of it.
I'm super disappointed this is happening, but I can't say I'm mad about it. This is pretty much uncharted territory for everyone involved — Nike, the resellers, the consumers. Literally everyone. I'm not excusing them. This is just the reality of the situation.
The sneaker industry has never really been here before. We've never lost an icon quite like this. Bryant is the first signature shoe athlete we've ever lost.

It sounds great to say the shoes will return at some point, but we legitimately don't know at this point. Even if they come back, people will just eat them all up again.
It feels like secondary market platforms should do something about it, but they really can't. Not anything long lasting, anyway. I had a conversation over e-mail with a spokeswoman from StockX who explained to me that they were donating all proceeds from sales on Kobe's over the next week to the Bryant family foundation.
That felt good to hear initially, but then you realize that's fleeting. They'll send a good chunk of money to the foundation and then things will be right back to normal. Folks will still be getting hit over the head for Kobe's because he isn't coming back. It's a tough situation to be in.
Kobe's signature line should continue in some way that keeps his legacy on the court alive, but not if the shoes are just going to be gobbled up on every drop and sold for $1,000. That's nasty.
His family should decide (God bless them) what to do with his line. No idea what options they have at this point, but they'd absolutely pick the right way to keep his legacy alive through sneakers.
It's a weird thing to even ponder right now. I don't think it goes away — players and people love it too much. But it certainly doesn't feel like it'll continue the way it's been going. Only time will tell. Let's definitely keep an eye on what comes next.
---
Nike's Vaporfly is safe…for now
(Photo by Raj Shah on Unsplash)
Nike's Vaporfly Next% shoe has made headlines for all of the wrong reasons over the last month or so.
The shoe is actually too good. It's breaking too many records and shaving too much time off of runner's paces, so there was talk about banning it.

The ban, if the World Athletics commission chose to impose it, would rule the shoe ineligible for the 2020 Olympics.
The commission came to a decision this week on the Vaporfly and Nike dodged the bullet…sort of. The shoe wasn't banned by the commission but it's not completely out of the woods yet, per the Guardian.
Instead of banning the shoe, they temporarily halted the development of any new shoe technology until after the Tokyo Olympics this summer. They're also launching a "comprehensive research project" to examine how much of an advantage the shoe gives its runners.
The Vaporfly isn't out of the woods yet, though. I'm betting there will be more rules to come following this study. The Guardian has more:
However the World Athletics working group is understood be stressing there needs to be far more detailed research into the performance benefits of the new wave of shoes – versions of which have also been recently introduced by New Balance, Hoka and Saucony. In particular it wants to establish how the height of the foam stack, the make of foam used, and the angle of the carbon plates can change speed and performance.
You know that moment you had in college where you found the loophole in the assignment your teacher gave and took advantage of it before they could find out? That's Nike right here.
They built the perfect shoe to give their runners a boost before anyone else and they're going to reap the benefits of it.
Other runners are being developed as we speak by other companies to compete against the VaporFly, but they won't be allowed to jump into the Olympics this year.

That gives Nike an inherent advantage that can't really be denied at this point. Runners wearing those shoes took 31 of the 36 podium positions in the six world marathon majors in 2019, per the Guardian.
The rest of the running world is going to catch up at some point, but it won't matter when they do. Nike is already going to be on its way to building its next innovation. The only way that stops is if the commission steps in.
That's why I think this shoe will ultimately be banned once whatever study being conducted is done. They got one over here, but the bar has been set. It can't go any further — unless our mechanical doping standards have changed.
Either way, the rest of those companies? They took a fat L on this.
---
Where have all the (cool) logos gone?
So the homie Mike Taddow wrote an excellent piece on Luka Doncic beginning to think about his brand and part of that was getting his own logo.
Doncic's logo looks pretty good, too, by today's standards. It's two inverted 7's sandwiching a D. One of the 7's is supposed to be an L, obviously.
I like this. It's good, creative and gives me a, like, Metallica(???) vibe or something of the sort. I don't know. Was never into metal, but those of you who were can let me know if I'm right.
But, again, this logo is good by today's standards. And, frankly, I don't think today's standards are that good. I'm probably a bit too young to be giving y'all the "back in my day" treatment for something that wasn't even really my day, but I'm definitely finna do it.
Logos in the 90's and early 2000's were just better. They were so much more creative. Today, we just see a bunch of player initials cobbled together in some weird way that makes it look weird.
I mean, honestly, yo, look at this.
(Image via Reddit)
The logos by player, by row:
Top Row: LeBron James, Derrick Rose, Allen Iverson, Kobe Bryant, Blake Griffin

Second row: Shaquielle O'Neal, Penny Hardaway, Kyrie Irving, Russell Westbrook, Chris Paul

Third row: Steph Curry, Tracy McGrady, Kawhi Leonard (former logo), Paul George, Klay Thompson

Fourth row: Damian Lillard, Dwight Howard, Lonzo Ball, John Wall, Dwyane Wade

Fifth row: Giannis Antetokoumpo, Michael Jordan, Kevin Durant, Carmelo Anthony, James Harden
The most memorable joints on here are the ones that aren't initials. It's the jumpman (Michael Jordan), the crown (LeBron James), the dunk man (Shaquielle O'Neal), the snake (Kobe Bryant) and the cent sign (Penny Hardaway).
After the year 2008 I'd say the rose (Derrick Rose) and the hand (Kawhi Leonard) are probably the best ones we've got, but there's not much good to choose from here. The rest of them are just kind of…meh.
Oh, and Dwyane Wade's (the circle on the bottom right) looks like a Dragon Ball. I don't know how to feel about it.
These logos are important, man. This is your mark — your sign. Jordan is nothing without the Jumpman. Nike is nothing without the swoosh. It's the stamp of approval that comes with the brand. If it's an ugly stamp, it's an ugly product. Just ask Under Armour and Stephen Curry.
I hope over this next decade we become more creative with the logos. Luka's logo should be a stepback instead of an L between two 7's. Curry's logo should be a fucking fire emoji. There's gotta be something better than a 30.
Let's do better in the 2020's, y'all. No more initials. No more plain numbers.
---
Imagine coming up on 3 pairs of Air Mags
That's apparently what some dude did. He paid $75 for a storage locker and it had three pairs of mags in it. THREE. And then Westcoast Streetwear's Joe came up on them on OfferUp.
Look at this thread, man.
A couple disclaimers about the mags. -shoes are 100% Authentic, they were checked by index portland in person and by several other reputable people, the authentic shoes do come with a pin and a booklet, fyi. -as I said yesterday, I didn't personally find (pt. 1)
The storage locker. I met with the guy who did, he paid $75 and didn't really know what they were worth. If you saw him in person the story of him finding there lines up perfectly. He showed me a picture of the unit as well.
Regardless if you believe it or not, it was one hell of a come up for both parties. To those that want to buy, all 3 of them are sold and I'm meeting with the buyer next week
He has the pictures to prove it, too.
I…I don't even…Lord, I see what you have done for others.
Complex has more here.
---
#TheKicksWeWear
It's been a super rough week, so thank y'all for hopping in on #TheKicksWeWear this week! I always love seeing what y'all are wearing.
The homey Q pulled out the NYC to Paris SB AJ1's. These are so good.
The homie Shawn P showed out again with the New Balance 990 v4s. Loving how y'all are switching it up with the laces, by the way.
Maliik Obee hit us with the A Tribe Called Quest vans. I should've copped these joints when I had the chance.
The homie Braven pulled out some Kobe joints. Good on em.
My homie Kyle Andrews pulled out the Shattered Backboard AJ1 mids. We gotta stop hating on mid-top Jordans, by the way.
The homie Sumeet Shah pulled out the Falcon Cortez joints on us. These are so cool, man.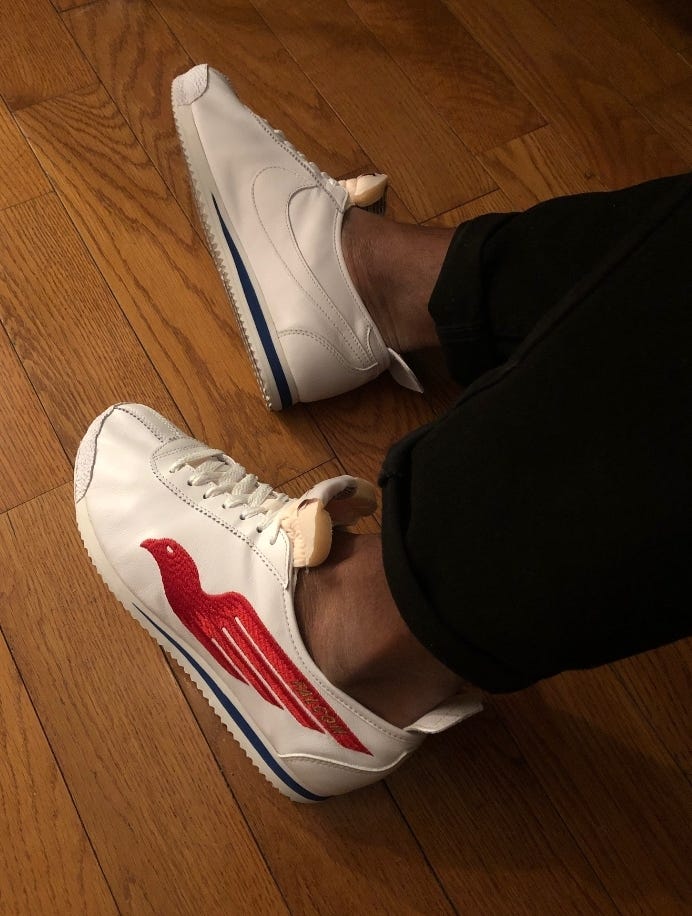 That's it for this week! I'm running out of space, y'all. If I didn't get to you, know I got you next week.
---
That's it for this week! I'll hit y'all on Monday. Happy Super Bowl weekend! Hopefully, you have a great time this weekend with some folks that are close to you.
Thank you, fam. Y'all are the best.
As always, peace and love. Be easy. Be kind.
Signing off.
—Sykes 💯