The Kicks You Wear, Vol. 4 — I'm rooting for everybody black
Diving into footwear's diversity problem and so much more
Gooooood morning, folks! Happy Friday! Glad you made it through a stressful work week! I'm also very thankful for you giving me a bit of your time this morning.
Today's shoutout goes to the great Elijah Cummings, who lived a giant life. Salute and rest in peace to a black icon.
With that out of the way, let's dig in.
---
The fashion industry's diversity problem
(via Twitter)
What you see above is a screenshot taken from designer extraordinaire and Off-White CEO Virgil Abloh's Instagram story showing the company's art directors. And, as you can see, everyone is white.
It was a bad look. I don't need to rehash this — Abloh and Off-White were already taken to task back in May when it happened. I only show you this picture to point out that everyone behind the scenes, despite what we're told and sold, still looks the same.
People of color are absent in the creative circles of the footwear and fashion design industries. Even the most "progressive" outfits are lacking people of color in roles across the board.
Adidas revealed that fewer than 4.5% of its 1,700 employees working at its Portland US headquarters identify as black, per the New York Times. There's more — only 1% of its 340 global Vice Presidents identify as black.

Even Nike, supposedly the industry's diversity leader, is dropping the ball. A whopping 79% of their VP's and 77% of their directors identify as white according to the company's 2018 impact report.
This is a problem specifically because these companies package and sell you diversity and inclusion. Their biggest luminaries are people of color. Think Kanye West and Beyonce with Adidas. Or Travis Scott and LeBron James with Nike. Even Virgil Abloh with Nike and Louis Vuitton. They don't thrive without these faces.
Today's pop culture is street (read: black) culture and these big, mostly black names are leading the way in that avenue. Yet, people that look like them are missing from boardrooms and creative tables.
Some believe this problem persists because there just aren't that many black art majors. D'Wayne Edwards, the founder of PENSOLE, is one of those people. His company is dedicated to pulling people of color into this industry. He dove in on the point with Footwear News.
[F]ootwear players have gone on record internally and externally saying that they welcome the opportunity to create a more diverse workforce. But the reason why the footwear industry has a diversity problem is because there are very few qualified African Americans to choose from.
He's not wrong. Only 5% of Bachelor's degree holders in Arts were African American according to a 2016 study done by Georgetown University.
Still, I don't quite buy it. There are things these companies can do to divesrify their workforce. Things like individual trainings, promoting from within, opening certification courses and pulling in people of color that way.
Training for a very specific job doesn't begin or end in college — and I'd be willing to bet a bunch of the white folks working at these companies don't have art degrees either.
The bottom line is this: Most industries still need to diversify, but footwear is a special case because of the pie-in-the-sky equality messaging these companies sell us. They talk it, but they don't live it.
Sneakers and streetwear are a uniter — I truly do believe that. But don't get it twisted. People of color move this culture. They deserve a bigger seat at the table. Period.
---
Ball out of the family
(via TMZ)
A couple of years ago I truly admired what Lonzo and LaVar Ball were doing with Big Baller Brand. They were building their own table to sit at — flipping the bird at Nike, Adidas and whoever else wanted to sign Lonzo to a shoe deal. Screw it. They were doing it their own way.
Now everything is just one big ass mess and it's so very disappointing.
The triple B's have been dying a slow death over the last few months since it was revealed that family confidant turned con-artist Alan Foster was hustling Lonzo Ball out of money for months without anyone noticing. For those of you who haven't been following, here's what's happened in a nutshell.
I don't want to give this any more light than I already have, but it's really a shame things are going down this way. I thought they had a chance to do something really special even if Lonzo Ball never panned out.
Ball had some real momentum coming into the league as a player that excited a new generation. He created a cult fanbase through some stories that were, quite frankly, just odd. He appealed to both young and old basketball fans and had a quirky, yet interesting game.
Things obviously went left, but I think the Ball family laid out a blueprint for some other hooper down the road in gaming the system. Considering how oppressive the NCAA system is in blocking student athletes from building a brand, they somehow found a way to game things with Lonzo.
LaVar did all the talking and Lonzo produced on the basketball court. They built a brand together and, once the season was over, capitalized on it with a sneaker.

They sold a product that people were willing to get behind without even thinking about it. Not because it was good, but because it was interesting. . It's one thing to sell a shoe, but another to move culture. Their biggest problem was they were great at the latter but terrible at the former.
I don't know when we'll ever see anything like this again, but we will. Someone else will watch their downfall, figure out where they went wrong and do it right. That might come soon — especially considering that California's Fair Pay to Play act is on the way. It's only a matter of time before someone breaks this wall down.
---
Finally, a cool sneaker commercial
I don't know about y'all, but I feel like it's been eons since we've had an actual good TV spot for a basketball shoe. I really can't name the last gone one that was about a specific sneaker.
We've finally got a good one. This RJ Barrett commercial for the Puma Clyde Hardwood is golden. He got a boat.
This is random. It's funny. The colors pop! It's aesthetically good and RJ is glowing. Best of all, the shoes are actually solid.
We don't really see ads like this anymore. Everything has moved to social — instead of actual advertisements we get paid influencer spots and instagram showcases and shit like that. I don't want that. They can keep it.
I miss the days where the LeBron and Kobe puppets would go at it. Or Vince Carter would walk down the street in Shox with Joe Budden randomly rapping in the background. Oh my God, remember this?
Shoutout to Puma, man. Thank you for bringing the love back. The game needs it.
(I apologize for having my first ever get off my lawn moment.)
---
Back to Off-White for a sec…
Man, I know Nike is probably overdoing it with some of these Virgil collaborations. But, good Lord, these Jordan 4 samples are incredible.
(via Nice Kicks)
I know, I know. If these were to ever drop, I'd never get them. They'd be swallowed whole by #TheBots before I ever got the chance.
But, if you're telling me there's a chance? Please, just let me try. I need these in my life.
There were more samples, by the way. You can take a look at them here. Virgil is too damn good at this.
---
Holy Grail Fridays
We've all got our grails, right? The shoe that you really want but either never get the chance to buy or just flat out can't because, like me, you are #broke.
I wanted to share some of mine with you, starting with these: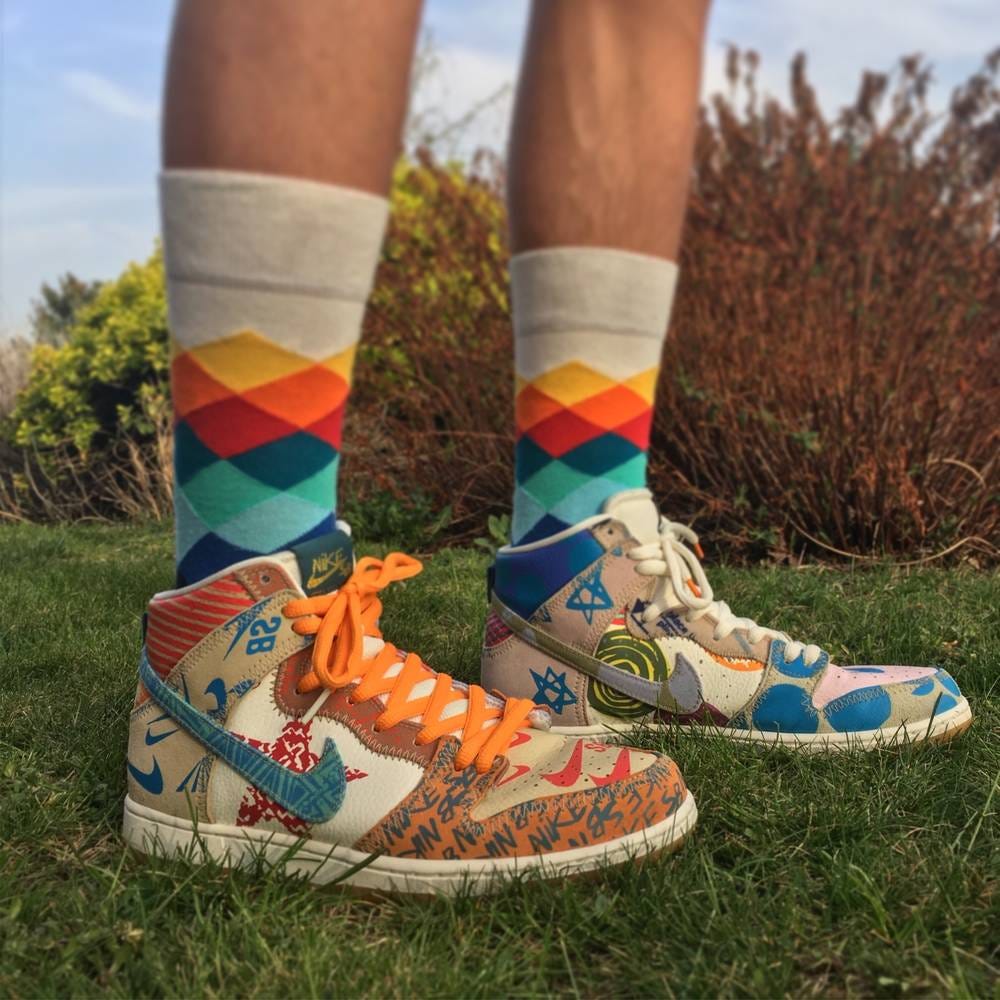 (Via GOAT)
For those of you who don't know, these are the Thomas Campbell "What the Dunk" high top Nike Dunks. I love these shoes so fucking much. They dropped two summers ago, sold out immediately and I haven't seen them since.
Every time I tried to cop, something got in the way. I found them at SneakerCon in 2017…a size too low. I almost bought them off StockX…for half a pay check. Just…ugh.
This shoe is an outfit unto itself. It's a conversation piece. The art, done by Thomas Campbell, is genius. Campbell was the Art Director for the skate film Nike SB Chronicles Vol. 3 and these kicks were designed similarly to the film's poster.
If you know anyone with these in an 11.5, please, let the boy know.
Also, send me pictures and stories of your grails! I need to hear some success stories. Help me out, fam.
---
That's all for this week! Thank you so much for supporting. Remember, tell a friend to tell another friend. And also tell those friends that you love them!
See you Monday! For all my first time readers, don't forget to subscribe!
Signing off,
-Sykes