The Kicks You Wear, Vol. 5 — Nobody wants to be like Mike anymore
Jordan Brand's plan to reclaim its place in sneaker culture and more
Good morning, beloved! It's Monday again, which isn't so great. But, on the bright side I'm here in your inbox again. Thanks so much for reading!
Big shoutout to this coach who saved what might've been a ton of lives by disarming this kid. I don't know why this wasn't bigger news, but salute to Keanon Lowe regardless.
With that, let's dig in.
---
Jumpman, Jumpman, Jumpman, them boys up to somethin'
("Fearless" collection via Sneaker News)
In 2017, Adidas leapfrogged Jordan Brand as the second most popular sneaker company in the United States behind Nike. Adidas' market share in US dollars jumped to 11.3% while Jordan flattened at 9.4%.
For the first time the sneaker industry's red-headed step child supplanted Nike's Ace of Spades. It was clear Jordan wasn't the pillar it once was. Back when it happened, I didn't think they could be ever again. There were three big reasons why:
First, style is generally shifting away from basketball — Jordan Brand's bread and butter.

Second, oversupply killed the exclusivity factor that kept it so relevant in the culture for so many years.

Finally, still the brand's biggest problem, is that Michael Jordan hasn't been relevant on a basketball court in over 20 years (with all due respect to my Wizards, of course.)
Those first two things are somewhat easily fixable. The third one? That's tough. You can't make kids care about a basketball player they've only seen in YouTube clips beating up on old white dudes. Not when LeBron James, Steph Curry and all of the other aliens of the NBA are out here killing it.
Yet here we are two years later and Jordan Brand might be as relevant as it has been in the last decade. How'd they do it? By pulling pages out of the Adidas and Yeezy playbook.
They stepped out of basketball. Kanye West was the name that made Adidas culturally relevant. Jordan and Nike scooped up West consigliere Virgil Abloh to do the same. 2017's shoe of the year was the immediate result and its only grown since.

They also leaned into the Jordan 1. Think of them as Nike's Yeezy 350's. They modernized Jordan's already cemented classic and turned it into the brand's foundation. So much so that they dropped 60 different colorways in 2018.
They're continuing with that playbook now as we speak. The "Fearless Collection" that you see in the picture above is the flagpole launch for the brand's 35th anniversary on November 17. The featured shoe, as you can see, is the Jordan 1. And they're collaborating with a bunch of artists to make a bunch of different versions of it.
Everything isn't solved. The brand's focus is still basketball and, like we mentioned before with LeBron, that just doesn't sell well these days.
Every single signature athlete they've had from Carmelo Anthony to Russell Westbrook has been overshadowed by MJ. They're hoping Zion Williamson is a big enough name with a new, younger audience to counter that.
Still, the bleeding has stopped. It's not often that a name this big gets punched in the face and bounces back — just look at how long it took Converse to really hit the mainstream again.
These are good signs for Jordan. I don't know if it'll ever be what it once was, but this is a great start. The only thing I want right now, though, is for them to relaunch the Air Ship. It's definitely time.
---
Plagiarism is bad…except for when it comes to fashion apparently
Generally speaking, plagiarism is a fireable offense and could get one blackballed from the particular industry they work in…generally speaking.
Except in fashion. That includes sneakers. Take a look at the Skechers below side-by-side with a pair of Nike Air VaporMaxes and some 270's.
(Via Heitner Legal P.L.L.C)
They're almost exact replicas with specific details like the translucent soles and heel counters matching side by side. Literally, the only thing that's really missing is a swoosh.
That's why Nike filed a patent infringement lawsuit against Skechers late last month. The Swoosh is accusing Skechers of building an entire business model centered around stealing and profiting from the designs of other high-profile companies.
It's a big problem even beyond Skechers. Think Balenciaga and Zara or Allbirds and Amazon. This kind of thing happens all the time. It's nuts but it's also very real.
It keeps happening because, even when they're sued, companies stretch the cases out for as long as possible while still being able to turn a profit on stolen designs.

It happens in wider fashion, Elizabeth Segran of Fast Company writes, but it's especially an issue with shoes specifically because of how close the carbon copies get to the real thing.

"[S]hoe brands looking to do the same thing seem to have a harder time with this, partly because they have less physical space on a shoe to play with. They seem more prone to make shoes that are recognizably similar to an original shoe design."
Similar to the fakes we went over before, these are profitable because they're dirt cheap and design is similar. You might get roasted, but in some cases the copy almost looks legit so it doesn't really matter.
This still stinks, though. Money aside, originality and cool are essentials in sneakerdom. These copies are violations of both of those things and that's a damn shame.
All the time and resources wasted copying could've been spent making some actual dope shit. Seems like a better play to me, but what do I know.
---
Doin' it for The Gram
I think about weird shit when it comes to shoes all the time. You know, stuff like "Damn, we could've done a lot more with Nike boots" or "we need to appreciate New Balance's art directors more."
But I certainly do not think I've ever wondered what sneakers people were Instagramming the most. Yet, here is this chart showing us exactly that, and I love it.
I have some thoughts:
I am shocked that Yeezy doesn't come first here. It's hard for me to believe that only 6% of total IG posts involving sneakers have a Yeezy in it.

The Air Max at 14% seems high but I think it's probably right. There are a lot of variations of Air Maxes out and Nike has really put an emphasis on refreshing the line over the last couple years. Also, why is the Air Max 95 separate here?

The Air Force One should be way higher. I'm not big on Forces, but I do know a good pair of Ice Whites has a great aesthetic on Instagram.

Poor Adidas. The NMD, Superstar and Ultra boost are in the back half of this and I can't help but think, if this was 2017, they'd be way higher.
This is cool data, though. I'm going to try and get my hands on whatever this study is. A deep dive would be great.
---
Let's get SPOOKY
So, as y'all know, I love Dunks. And holidays are dope, too. That's why I want to show off these spooky Dunks that I need in my life.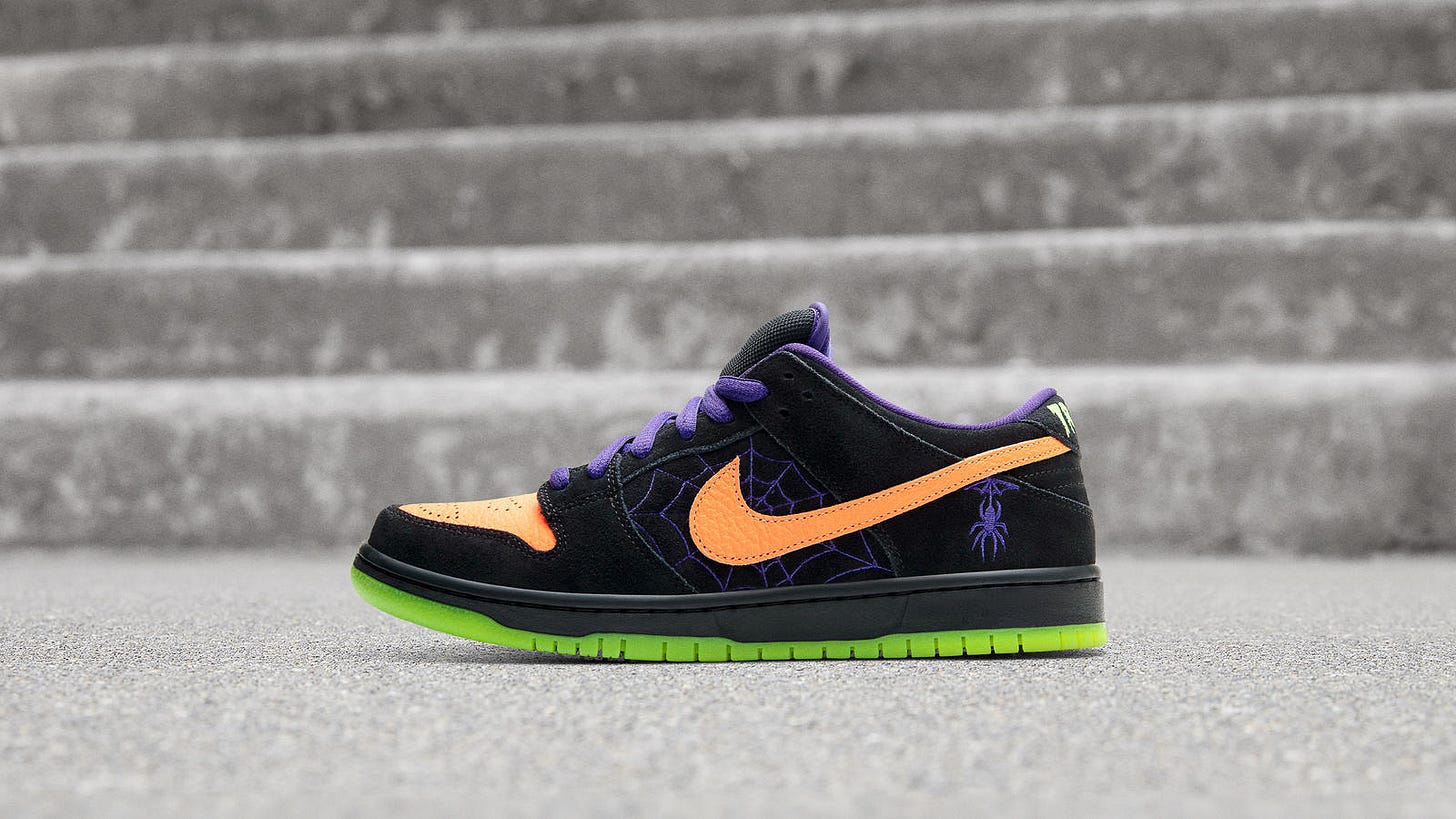 I'm a sucker for anything orange orange. But the best part is that THERE IS A VAMPIRE FACE ON THE TOE BOX.
I know what you're thinking. Why would you wan these? You can only wear them one day per year.
My retort is as follows:
Again, there is a vampire face on the toe box.

Halloween is a pretty cool holiday, anyway, so why not?

Again, there is a VAMPIRE FACE ON THE TOE BOX. Think about that!
Also, dude.
---
What's droppin, bruh
---
That's all, folks! Thanks for giving me a bit of your time on this beautiful Monday. See you Friday!
If you're new here, don't forget to subscribe! And, as always, tell a friend to tell another friend about this. I hope you thoroughly enjoyed reading! Much love!
Signing off,
—Sykes