The Kicks You Wear, Vol. 56 — Whole lotta gang stuff
We need to tread lightly on gang culture with sneakers.
Good morning, folks! Happy Friday! Welcome back to the Kicks You Wear! Thanks so much for rocking with me this morning — I appreciate it.
We're only 90 subs away from 800, y'all! Big shouts to y'all for spreading the word like you have and getting us to this point. We're so so close to the giveaway! I can feel it. Y'all are awesome, man. Thank you!
Let's jump in.
---
Sometimes sneakers are more than sneakers
(Photo by Ryan Pouncy on Unsplash)
Gang culture in America has been used as a marketing tool for decades across industries. Music, entertainment, fashion — you name it and you can find the influence.
The sneaker industry is no different. I was reminded of that when my guy T.J. McBride sent me this tweet.
The tearaway bandana design is an homage to the Bloods and Crips — probably the two most fetishized gangs in the country.
My immediate thought was "well this is dangerous." Once I realized these were only a customization, there was a sense of relief — but still a bit of concern. It's not even this particular pair of shoes that is the problem. It's more about what they represent. And I don't mean the gangs.
Let me explain. A pair of shoes is more than just a pair of shoes when gangs are involved — it's part of a uniform.
It's not just the Cortez that can get you in trouble. Reeboks, Adidas and certain colorways Converse's Chuck Taylor could also get you caught up. And that's just the tip of the iceberg.
That's what is so concerning about those Jordans. Gangs are deadly serious. Yet, it feels like this shoe co-opts that seriousness and turns it into an image to be sold. Stories of Black folks pain and survival are always become pageantry.
There's a double-edged sword here. Because in some cases, this gives people an opportunity to learn which is always a good thing. It also gives folks who come from this culture a platform to educate.
The flip side of that is Reebok also trying to sell a Nipsey Hussle shoe with Crip colors and his logos without having his actual approval. They tried to co-opt his story and image to make a quick buck and that's just gross.
So back to that Jordan 1 posted above. It's hard to gauge what this is and if it has actually crossed a line. I have no idea who owns this shoe or if they're actually gang affiliated.
If so? Cool. Do what you do. It's your world. If not? These probably should not exist.
---
A Scottie Pippen appreciation piece
As we move into the weekend and prepare for another round of ESPN's Michael Jordan documentary, I can't stop thinking about Scottie Pippen.
Dude was so undervalued. He an MVP level player playing second fiddle to the GOAT, which couldn't really be helped. But, damn, they could've at least paid him. He signed a 7-year, $18 million deal in 1991, which…bruh WHAT?
That sucks, but Pip still made out pretty well. Particularly in the shoe game. He didn't become a signature shoe athlete with Nike until 1997, but he was always rocking heat.
Here's a brief history.
The Air Pippen line probably doesn't get as much love as it should, but it still holds up. The Air Pippen 1, in particular, has had a good run over the last few years.
For my money, Pippen has one of Nike's best signature shoe lines of all-time. He went from unrecruited out of Arkansas to being a six time NBA champion with seven signature shoes in his name. Not too bad, all things considered.
Still, the Bulls are trash for not taking care of that man.
---
No Claw for Kawhi Leonard
Kawhi Leonard's Jordan Brand logo was absolutely bad ass and probably the best player logo we'd had in sports in years.
We'll probably never see it used again. A federal judge ruled on Wednesday that Nike had the right to copyright Leonard's logo and would not have to surrender it back to him after he filed a lawsuit claiming it was actually his design.
Leonard shared a self-drawn rough draft with Nike back in 2014 when they were in the process of designing his logo. They took that design and flipped it into the KL2 hand logo you can see here. .
(via Court Documents)
Preeeetty similar, but not the same. At least, that's how the judge saw it, per Oregon Live.
"It's not merely a derivative work of the sketch itself,'' the judge ruled from the bench after an hour of oral argument held by phone as well as multiple briefs filed in the case. "I do find it to be new and significantly different from the design.''
This probably isn't going to be the last we'll hear about this, but it's an absolute shame that Leonard likely won't get this logo back and be able to use it with New Balance. The opportunities are there.
Let this be a lesson to us all. Secure your dope ideas. If you don't, someone else will.
---
Get A$AP Rocky out of here
A$AP Rocky fans, I am sorry to inform you that y'all got to get your man. Again. He's out here wylin'.
During a Q&A session in 2015 at OXFORD, of all places, Rocky claimed to be the reason why everyone in the world wears Air Force 1's. And he claimed to set the trend back in 2011…
First of all, you cannot make this claim when Nelly exists. People were wearing Air Force 1's before the St. Lunatics became popular, but they quite literally have a song called Air Force 1's. LITERALLY. And this dropped in 2002!
Second, fam, folks been wearing Air Force 1's since the damn 80's. Nah. Just nah. Get out of here. Third, ain't Rocky from Harlem? That's all they wear out Harlem. That's a proven fact. Look it up.
Fourth, I'm not finna listen to this man speak about fashion ever again until he gives us an actual good piece of music. It's been years bruh. Focus on your music. It's a better look.
Somebody let him know. Because he can't be walking around being this wrong about things. That's just not a good look.
---
#TheKicksWeWear
IT. IS. TIME. The Kicks We Wear is back! As always, y'all brought the fire this week.
First, the homie Adrian popped out in some dope Adidas beaters. Wear your kicks, folks. This is the perfect result.
The homie Jalen came through with the Pantone 11's! Haven't seen these joints in forever!
Then Mike Golic Jr. came through with the Pure Money 4's. Only the Jordan 4 could make white on white look this good.
The homie Dandin came through with the special edition NBA Live 08 Lightswitch Gilbert Arenas joints. Bruh these are MY CHILDHOOD.
The homie Jummy popped out in the Viotechs. Joints is killer.
Our guy T.J. is out here snapping artwork with the LeBron Icons. Also, bruh, what a shoe.
Then the homie Justin came through with the Cement 3's and I have decided that this shoe is top 3.
Then, to send us home, the homie Tyler Tynes came through packing ALL KINDS of heat. Bruh. Court Purples, Fire Red 3's and the Cool Grey 4's. Unfair.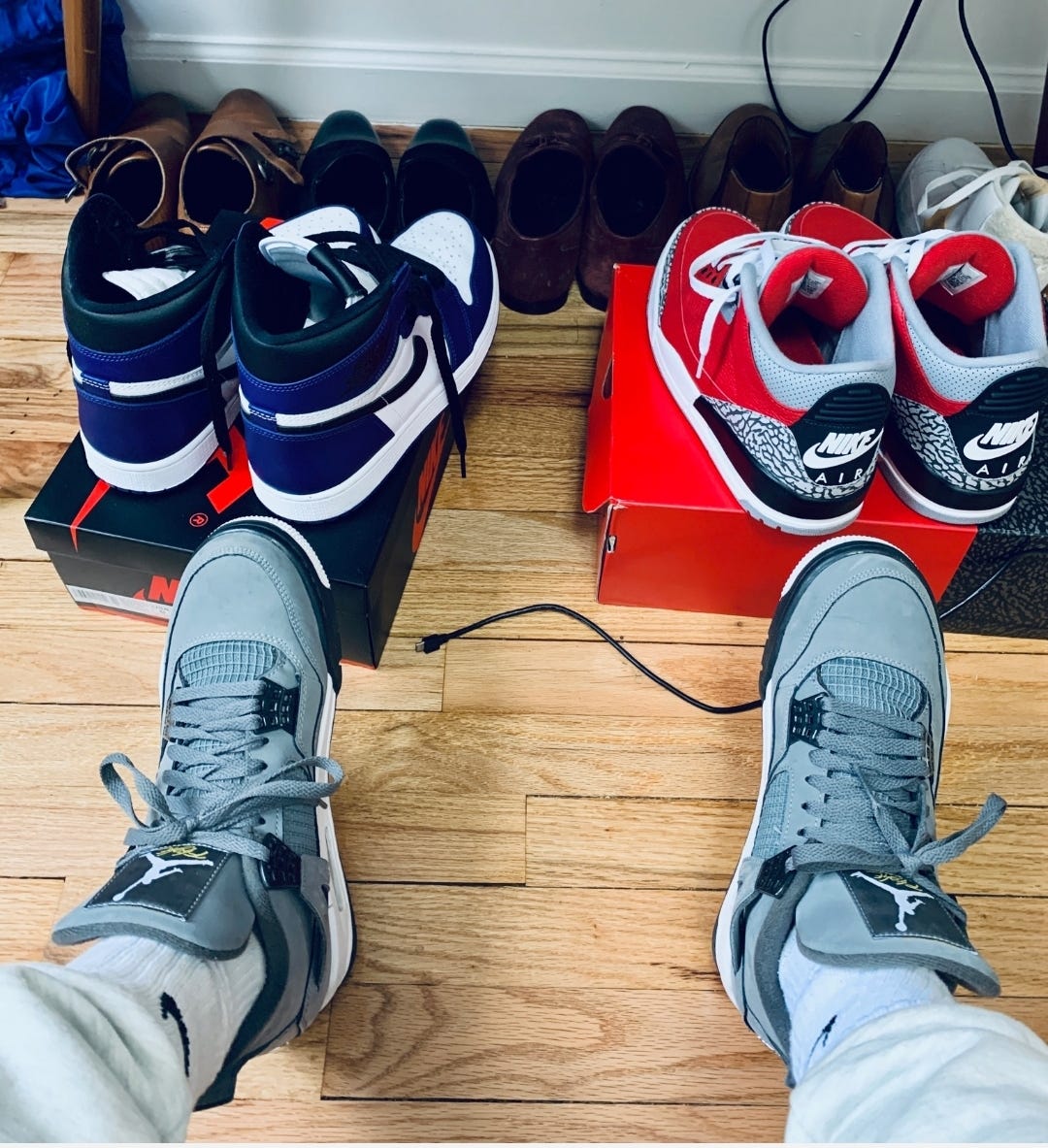 Every week, man. Y'all just keep the heat coming. Good stuff, yo. Good stuff.
---
Thank y'all so much for rocking with your boy today! I truly, truly appreciate it and hope you have an amazing, safe and healthy weekend.
Remember, tell your friends to tell their friends about the Kicks You Wear! Get in on this sneaker raffle, yo! It's coming soon.
As always, peace and love. Be easy. Be well. Be kind.
Signing off.
—Sykes 💯