The Kicks You Wear, Vol. 6 — Women wear sneakers, too
Why are shoes still gendered again?
Yo! Gooood morning! I hope you're doing well on this fantastic Friday. Welcome to another edition of The Kicks You Wear.
Today's shoutout goes to my guy Dave DuFour of the Athletic who riled up sneaker twitter this week by asking what the most underrated Jordan is. What do y'all think? I said the 19. I know y'all hate it, but it's one of my favorite J's.
Anyway, I digress. Y'all bout ready? Let's dig in.
---
Ain't no fun if the ladies can't have none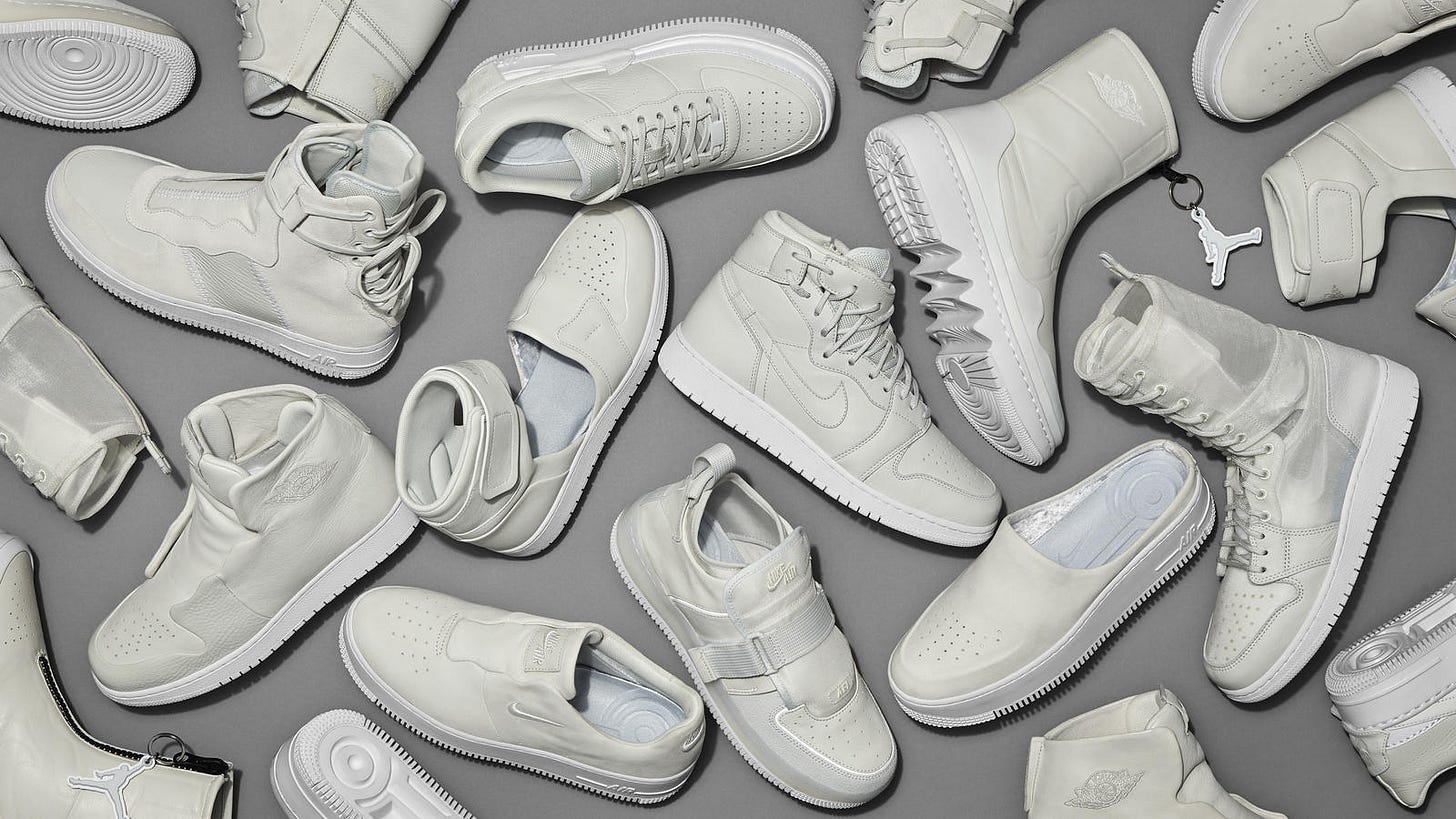 (Nike's Reimagined Air collection for women via Nike.com)
Women have never had a prominent voice in the sneaker industry despite always being there. The executives that make most of the decisions for your favorite sneaker companies are guys. The folks who design the shoes? Guys. The folks they market to? Also guys. You see what I'm getting at here?
Being a woman and a sneakerhead is to give love knowing that you aren't getting any back. Creative producer Anna Bediones wrote this on her struggle back in 2013.
"In 2002, I experienced my first "female sneakerhead" struggle. At the time, Vince Carter was the king of Toronto. So, naturally, when my dad took me sneaker shopping, I had my heart set on his first signature shoe: the VC Shox 1 in red. To my dismay, the red was only available in men's sizes. I did what anyone other sneaker lover would do in a moment of desperation: I bought insoles, doubled up on socks and made my size 4.5 feet work with a men's size 7. Eleven years later, they still don't fit."
That's insane. Yet, here we are 17 years or so later, and women are still experiencing the same issues with kicks. Sneaker companies just don't make women's sizes — especially when it comes to exclusive drops.
Think about it. How often have we seen unisex sizing on some of the Jordan drops we've tried to get throughout the last few years? Yeezys? Even with some of Virgil Abloh's Off-White Nike collabs, women's sizes are absent.

And, yeah, I'm sure you have that lady sneakerhead friend who cops kids sizes all the time. But she probably doesn't want to. Sure, they're cheaper, but they also don't last as long because they're cheaper.
Women's shoes almost always come in some weird pink or mint green color. Those are fine, but women want the same drops men do. Imagine if you had to buy something like the OG Bred Jordan 4's this year a full two sizes up and also had to throw on another pair of socks for the shoe to fit perfectly. Don't know about y'all, but I'd be sick. That's how women feel when they're buying these kicks.
It's a shame that this is a thing because there's very clearly a massive market for women within the culture. All you gotta do is go read read stuff like Hypebae or take a look at Small Feet Big Kicks. It's obvious.
Altruism be damned, there's a growth opportunity there. Take it from Puma. After they named Rihanna the creative director of the company and dropped the Fenty Creeper, sales jumped by 16.4% by 2016 and the Creeper was the shoe of the year (Navy stand up!).

That moment in sneaker history showed other companies that there was a legit market for women's sneakers and they didn't have to be gimmicky to work — they just had to be dope.
Since RiRi and Puma broke the system five years ago, other companies have tried to jump on board. Think about Serena Williams' Off-White collab or Beyonce jumping in with Adidas.
Even with that being the case, though, we've still got a long way to go. There are still exclusive drops every weekend that come out with no women's sizing and that's a problem.
The solution is simple. Just make the same shoes for everybody. Unisex sizing isn't a difficult concept. Plus, it's 2019 — what are gender based clothes, anyway? Come on, y'all. Let's get it done.
---
All aboard the executive carousel
(Nike CEO Mark Parker, left, and CEO-to-be John Donahoe, right, via Nike.com)
Not sure if you saw the news earlier this week, but major executives at Nike, Under Armour and Adidas all stepped down from pretty prominent positions. It was weird as hell.
Nike CEO Mark Parker announced he'd be stepping down from his post as after 13 years to make way for John Donahoe, a member of Nike's board and the chief executive of ServiceNow. In other words, he's a tech guy. They'll definitely need that expertise with how much Nike's investing in the SNKRS app and how terrible it is right now. Maybe he can solve the bot problem?

Under Armour's Kevin Plank is stepping down as chairman and CEO after 23 years in the big chair(s). However, he'll still serve as the company's executive chairman and brand chief, which might not actually be the greatest thing. Under Plank's direction the brand has struggled to keep up with evolving styles and has failed to build a female consumer base — especially over the last two years.

Adidas' Global Brands manager Eric Leidtke announced he'd, too, be stepping down at the end of the year. This might be the biggest move of all. He was promoted to his position in 2014 and is credited with coaxing folks like Kanye West and Beyonce to join Adidas. Basically, without him, Adidas isn't what it is today. He maybe the company's top candidate to be next in line for a CEO spot at the brand.
The folks stepping in to replace these execs are going to have to prove their worth immediately. Big players like Puma, Reebok and New Balance are reemerging and already hitting their stride.
For a brand like Nike with a huge market share already, it's not that big of a deal. But for Under Armour and Adidas? All it takes is one slip.
What if MAGA Kanye West goes too far or Stephen Curry gets zapped by the Monstars? That could be it. They need contingencies and they need them fast. We'll see how quickly they figure it out.
---
The plastic from your shoes is part of the problem
I know we talked a bit about this a few weeks ago, but I really have to hammer this point home: Our shoes are really taking a toll on the environment.
Freelance filmmaker Rob Groulx and his team over at NatGeo really hit the nail on the head with this one. Watch it. Take it all in.
My biggest takeaway was this: Just because your shoes use recyclable or biodegradable materials doesn't mean they're exactly the best for the environment.
Yes, waste is reduced, but sneaker companies don't really know how many times they can repeat the recycling process to make the same sneaker with a solid quality.

In other words, as it stands we've found a bandaid but not necessarily the solution. We've still got a lot more to learn about this process before we're in the clear.
And, as Groulx points out, we've still got to find a model for sustainable sneakers that is aesthetically pleasing while also serving the environment well.
I think we're on the way there with stuff like the Adidas Futurecraft. It's sleek and 3D printed — that alone makes me want to buy. Can we just make it a little bit cheaper?
---
Sneaker free agency with PJ Tucker
(PJ Tucker via Instagram)
For those of you who don't know, this is Houston Rocket's forward PJ Tucker. He's a sneaker free agent, meaning he's not contractually obligated to wear any specific brand while playing NBA basketball.
Tucker's Nike deal expired on October 1 and he's been snapping on the court with the kicks ever since. He's embraced being a free agent and has treated the court like runway. His preseason rotation went NUTS.
This isn't the greatest thing for Tucker's pockets, but it's most definitely going to be a treat for us.
We could see him in Yeezy's one night, Jordan's the next, and then maybe some Reeboks the next. Who knows? Could he pull a Gilbert Arenas and hoop in some designer joints?

I'm not sure where Tucker's sneaker count is now (and I'm not sure he does either) but it was at at least 4,000 last year. THINK OF THE POSSIBILITIES.
Nike, Adidas, Puma, Reebok and New Balance are all in the running with the Rockets' sneaker star, per ESPN's Nick DePaula. I'm hoping he takes his time figuring things out because the heat that's about to hit the court is going to be crazy.
Please, PJ, get your money. But in the meantime, continue to get wild.
P.S…How into a sneaker deal deep dive would y'all be? That's really my bag. Let me know.
---
Holy Grail Fridays
I'm back with another failure of mine. This time, it's not because I didn't have the money to cop these. I literally can never find them and was late to the bandwagon.
These are Nike's Raygun dunks. If you were into sneakers anywhere between 2005 to 2008, you know exactly what these are and exactly what they mean to the culture.
My problem is I was 12 years old in 2005 when these dropped. Fam, I was still wearing Team Jordans at that point in my life. I thought I was the shit. I wasn't. These were. And I didn't even know they existed.
For those of you who know me, you know I'm a HUGE Wale fan. And part of the reason why is because he really got me into the kick game — specifically with Dunks. I vividly remember him rapping on Kicks:
Cheer for the Green pack, I'ma Cheesehead.

Ray Guns on young make police scared.
I asked Google "What are Ray Guns?" — or, rather, I typed it because Ask Google didn't exist when this song dropped. Turns out, they're inspired by the Roswell Rayguns — a made up ABA team created by Nike featuring Vince Carter, Paul Pierce, Jermaine O'Neal, Baron Davis and Jerry Stackhouse. My two loves, basketball and Dunks, combined into one. Plus Wale? Nah, I need these.
I'm going to get them someday. They're hella expensive now, but when I blow up this might be my first purchase. You heard it hear first. Just don't tell my girl that.
---
That's it for today! Enjoy your weekend! Share your grails and let me know what you cop! I really enjoy the convo y'all have for me — it makes my entire week.
Don't forget, if you're new here you should subscribe! Tell a friend to do the same, please and thanks. And then have that friend tell another friend.
Much love, y'all. Signing off.
-Sykes