The Kicks You Wear, Vol. 66 — The Kobe System
Kobe Bryant and the origins of sneaker free agency.
Good morning, family! Welcome back to the Kicks You Wear! Thanks so much for joining me on this glorious Friday morning.
I'm starting off by sending love to everyone mourning the death of George Floyd right now — yet another black man killed at the hands of police officers sworn to protect. He was a father, a brother and, quite simply, a human being who did not deserve to die. It's been a rough week, y'all. Send love wherever you can.
On a lighter note, we're only a handful subscribers away from a stack! Which means a couple of y'all are getting a pair of shoes soon! Put your friends on! Subscribe!
With that out the way, let's dig in.
---
The birth of sneaker free agency
(Photo by Olivier Collet on Unsplash)
Sneaker free agency is one of the most enjoyable parts of covering the footwear industry. But, believe it or not, it wasn't always a thing.
It was rare for athletes to jump from brand to brand back in the day. They did move around — think Scottie Pippen switching from Avia or Nike, Dennis Rodman went from Reebok to Nike to Converse, Shaq dumped Reebok. But it wasn't as public.
Being a sneaker free agent wasn't really thought of as a "thing" until 2002. And we have Kobe Bryant to thank for that, may he rest in peace.
Kobe is the father of sneaker free agency as we know it today. Everything changed when Bryant bought himself out of his Adidas contract in 2002. Here's the backstory.
Bryant signed a six-year deal with the three stripes in 1996 after jumping fresh out of high school and into the NBA. Things went well initially. They launched their "Feet You Wear" series and built it around Kobe with the KB8 line.

Things went left when Bryant's signature "Kobe" line dropped. The Kobe 1 and 2 are some of the worst signature kicks we've ever seen. They didn't move much despite Kobe's on-court success as an NBA champion.
The Kobe 2 ended everything for Bryant and understandably so. The first Kobe shoe was already pretty "meh." But the Kobe 2? This damn thing is a space brick. There's no coming back from this.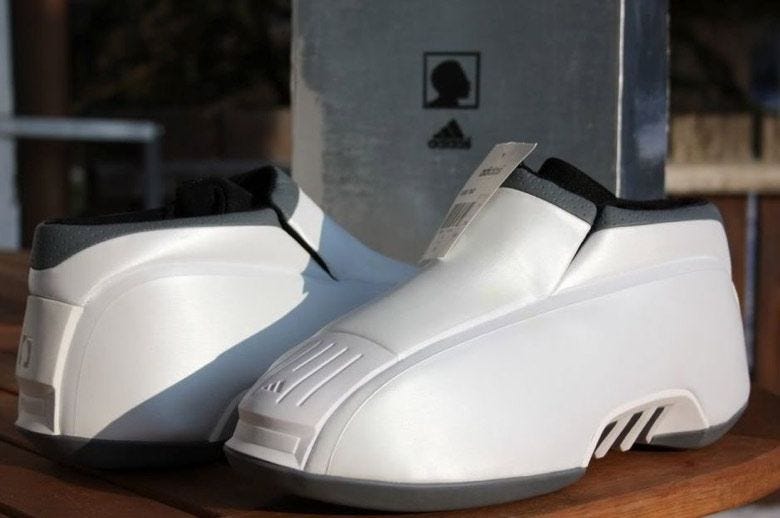 Like, yo. Come on. People would literally pay money not to wear these.
Not even kidding — Bryant eventually did! He paid $8 million to get out of his Adidas deal because of this shoe. As a result, he could wear whatever shoes he wanted through the 2002-03 season.
It was at that moment that sneaker free agency was born.
That season he went around wearing everything but Adidas. Reebok, Converse, Nike, Jordan — you name it, Kobe wore it during the 2002 season.
This was unprecedented at the time, but it was also a stroke of genius. This is how you market yourself as a player. Sure, you're giving brand X free pub on the front end — especially if you ball out.
But on the back end? They've seen what you can do now. And they've seen the impact that you can have in a pair of their shoes. Now, when it's time to sit at the negotiation table, you already have proof of concept. You aren't faced with the burden of trying to prove your worth.
Eventually, Bryant landed with Nike on a four year deal and the rest is history. Fast forward to today, and every year or so we have a star who comes along follows that blueprint.
This year there were a bunch of big named stars like Luka Doncic, P.J. Tucker and Jimmy Butler.

A few years back Lonzo Ball did it in Summer League a few years ago before unveiling the first Big Baller Brand shoe. And that built up a ton of hype for his own kicks.
Kobe Bryant isn't Michael Jordan. There was no such thing as a signature athlete before Mike came along. Just endorsees. But, in his own way, Bryant showed athletes how to build their leverage and use it in the prime of their careers.
In so many ways, that's just as important. I guess you can say it's a different animal, but the same beast.
By the way, we've finally got new Kobe's coming soon, folks! 🙏🏾
---
You were never getting the Chunky Dunky
(Photo by Zhen Hu on Unsplash)
I hate to break it to you, but these last few weeks chasing the Chunky Dunky around were one big waste of time.
All of those raffles. All of the random drawings. All of the time spent. None of it actually mattered. This shoe was insanely scarce. So scarce, in fact, that even folks with Ben & Jerry's corporate e-mail addresses weren't guaranteed pairs. They were subject to raffles, too.
And this, folks, is why we need to stop chasing hype. Think about how crazy that is. There were people who worked for the actual company who, basically, barely stood a chance. If they couldn't get pairs then of course the rest of us couldn't.
It's just too hard to buy shoes like this without a bot. Supply is already limited and there are way too many people trying to cop all at once. It's all just one big headache. All in the name of having a shoe that no one else was able to get.
We really don't have to keep playing this game. All we have to do is stop buying into the hype behind kicks like this one. Go buy something else. I promise, there are other dope shoes out there.
The only way we change this process is if we change our mindset. If we don't? We're doomed to keep doing this dance over and over again.
---
Kick-ass women in sneakers
(Photo by Arièle Bonte on Unsplash)
Women are breaking down barriers in the sneaker industry day by day.
They're working in more important roles and starring in spaces they didn't have access to just a few years ago.
In an effort to recognize the achievements of women in the industry through the years, Business Insider is putting together a list recognizing them. Shoshy Ciment is putting it together.
Here's more:
To highlight these creatives and influential sneakerheads, Business Insider is putting together a power list of the top female-identifying people who are transforming the sneaker industry. The list will highlight female-identifying designers, resellers, collectors, executives, deal-makers, and professionals who have played a part in transforming the sneaker industry.
Readers can also nominate industry influencers they feel deserve to be recognized, which is pretty damn cool. There are so many women to choose from. They've dominated the sneaker industry for the last few years but especially so over the last year.
We started this year off with a bomb ass Beyonce collaboration from Adidas and no one has been able to top that from an endorsee standpoint.

From there, we had Melody Ehsani drop the Cherry Jordan Women's OG shoe for her second collab with Jordan and that joint went crazy. And that was after dropping one of the most important Jordan 1 shoes last year.

Oh, wait, forgot to mention that the Sacai Waffle — maybe the hottest sneaker of 2019 — was created by Chitose Abe and her Sacai brand.
And that's only the tip of the iceberg. There are so many women doing so many important things in this industry. This is great to see and I can't wait to get the end result.
---
Y'all finna get me out of here, but…
Whatever. I don't care. I like what I like. And EYE have decided that these Kevin Bradley Blazers are…kinda hittin'.
Look, yo. I know velcro on shoes is for pre-schoolers. And that's just fine — it can be that. But y'all can't tell me with a straight face that the clouds on these shoes ain't tight. You can't!
It's ok. Y'all killed me for loving the Chunky Dunky and look what happened. Everybody else loved the Chunky Dunky, too. Just wait on it. Y'all will come around.
---
#TheKicksWeWear
Y'ALL KNOW THE VIBES. IT'S FRIDAY. KICKS WE WEAR. LEGGO.
First, the homie Noetic hit us with the father-daughter combo flexing in the Air Max Plus. This is GOALS, dog.
Then my guy Bob Herman showed out with the Dame 6's and BOY are these clean. Come through, Bob!
Then the homie Jalen popped out all fly, per usual, in these cold Air Max 1's.
Then the homie Chris came through in the React Air Force 1's! These joints look clean!
The homie Jerv came through in some clean ass Air Max 90's. Classic joints, man.
The Sports Connoisseur came through CLEAN in these React Elements. My Goodness, G.
Then my man Nick came through in the ALD New Balance 827s. This shoe is so glorious.
Then my guy Juan came through in Adicolor Panini's and, my God, all of a sudden I need to go to a beach.
And you already know the homie Tyler Tynes came through in some clean 1's with the Jordan shorts on to match.
This is a picture of me on my roof.
@AuntieAlex
took it of me when she came to visit. This day felt kind of normal. It was hot and quiet, yet equally busy. For a Memorial Day weekend without the fuss, it was good to just lie about, get darker and remember what it feels like when the sun kisses your skin. That, and I got to wear some new kicks around town. Quarantine or not, you know we finna flex on the jawn 🌞👌🏾✨✌🏾
Then my guy Adrian came through with the cold camera work, as always, to send us home in the Turbo Green AJ1's.
How the hell are y'all so fly, man? Sheesh.
---
Issa wrap for Friday! Thank you for rocking with your boy today, family. I truly, truly appreciate it. Don't forget to tell your friends about the Kicks You Wear! Hit that subscribe button if you haven't already.
Some housekeeping! After our newsletter on Monday, I'll be out until June 15th. Keeping it a buck, gotta take some family time. I'm going to unplug for a bit and then be right back. Don't miss me too much. I'll miss you.
Until then, family! We'll rap on Monday! Stay safe out here. As always, peace and love. Be easy. Be well. Be kind.
Signing off.
—Sykes 💯