Discover more from The Kicks You Wear
The intersection of sneakers, business and culture injected directly into your inbox.
The Kicks You Wear, Vol. 75 — The code is cracked
More Space Hippie plzzzz
Good morning, folks! Happy Friday! Welcome back to the Kicks You Wear. Thank you so much for rocking with me. I hope you've had a fantastic week and that you have an even better weekend.
We FINALLY got our raffles done. Congrats all of our winners. Y'all are the best people and I'm so glad you're here, holding the kid down. Bless.
Let's get it started.
---
The Space Hippie's next step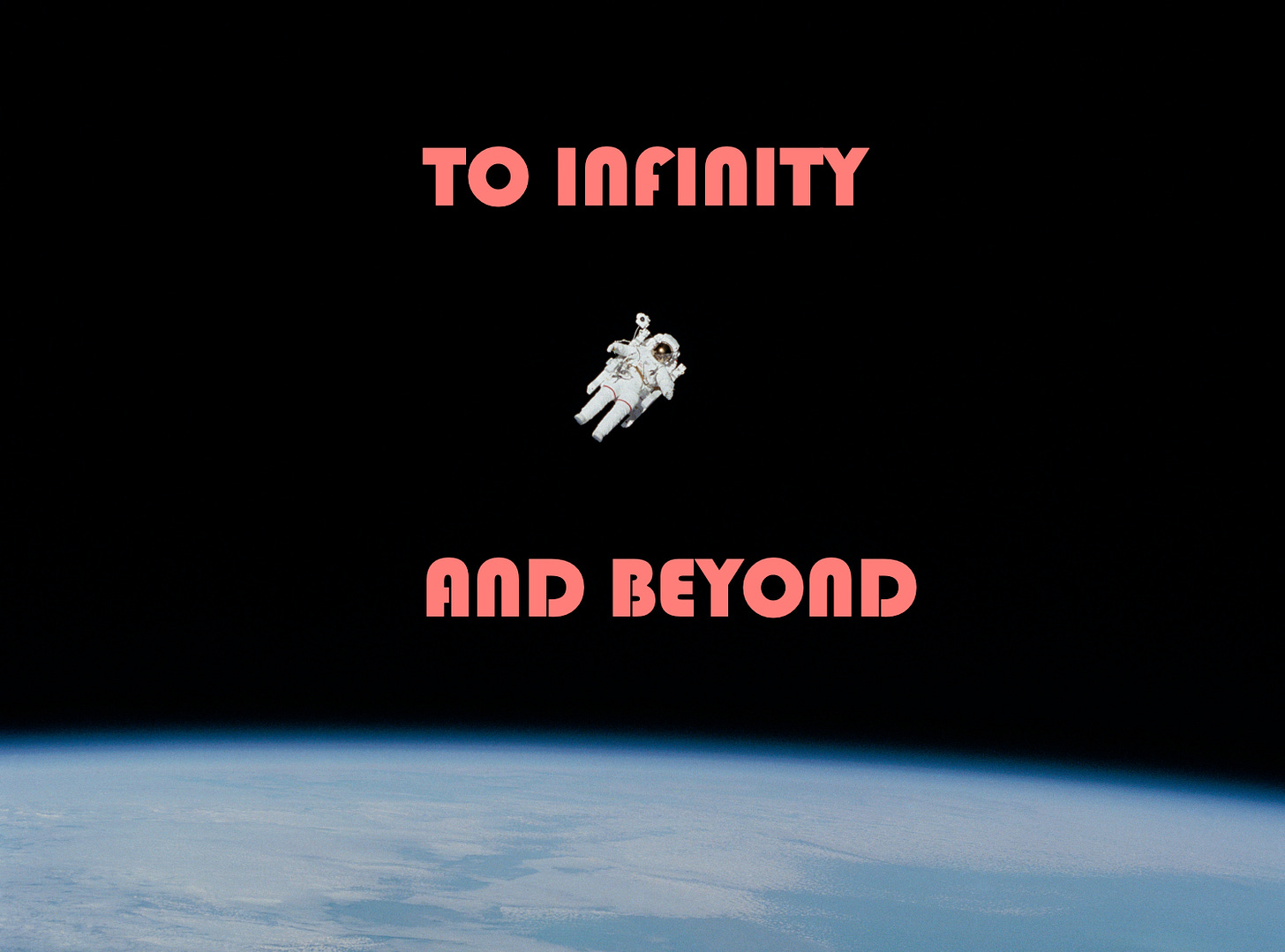 So there's no doubt that Nike's Space Hippie launch from last week was an absolute hit. The shoes sold out in minutes, which isn't the norm for a non-Jordan or non-Dunk release.
But as we look back at the rollout, it's easy to see how this shoe became hyped.
We first saw images of the shoe all the way back in February just before All-Star weekend. Seeing a shoe for the first time that far away from its release date is normally a solid indicator of how much hype it'll come with.

They were also showcased at a Nike event initially and leaked through Twitter before we even got official images of the joints. Another really good indicator.
So, yeah, it makes total sense that these went as quickly as they did. And, for a shoe like this, that's a big deal.
Environmentally friendly sneakers are important for obvious reasons. The hyped shoes that are the fulcrum of this multi-billion dollar business normally just end up as waste. Freelance filmmaker Rob Groulx spells it out perfectly in this video.
Environmentally friendly options can be recycled, but the demand is hardly ever there. I talked to James Carnes, Adidas Vice President of Brand Strategy, about this very concept earlier this year from an Adidas perspective.
Essentially, Adidas' Parley shoes never sell as quickly as a Yeezy would. But, as they build product out, that's the goal they hope to achieve — hyped and sustainable shoes.
"That was the first part of Parley…give sustainability its own feeling of being premium and luxurious and don't make it this boring 'Gotta do the right thing' kind of thing…The other side is that people want to just go out and buy Stan Smiths. They want it to be easy. That's the mission that we're on and you'll start to see that later this year."
The Space Hippie cracked that code. This environmentally friendly drop turned into the thing that everyone wanted to have — just like a general Dunk or Jordan 1 release.
But there's a next step and this is the most important part. The Space Hippie has to be normalized in the same way those Jordan 1's you love so much are. The materials have to be used in everyday shoes and made available to everyone.
The purpose of the shoe is to provide a more sustainable sneaker option for people, but that's impossible if pairs are limited and exclusionary like they just were in the first Space Hippie drop. It has to be spread if it's going to make effective change.
We're already seeing next step being executive by Nike. There's another round of Space Hippies coming out in a grey colorway. We're also going to see these materials featured on both the Jordan 1 and the Dunk.
Still, though, you'd like to see more. If the second round of Space Hippies is still limited and the materials are only limited to the AJ1 and the Dunk — today's two most hyped Nike models — then we're still left with the same problem.
Time will tell how the Space Hippie continues to grow and evolve. Either way, the progress it's already made is a good thing. This is the model to follow.
---
Converse's new relationship with basketball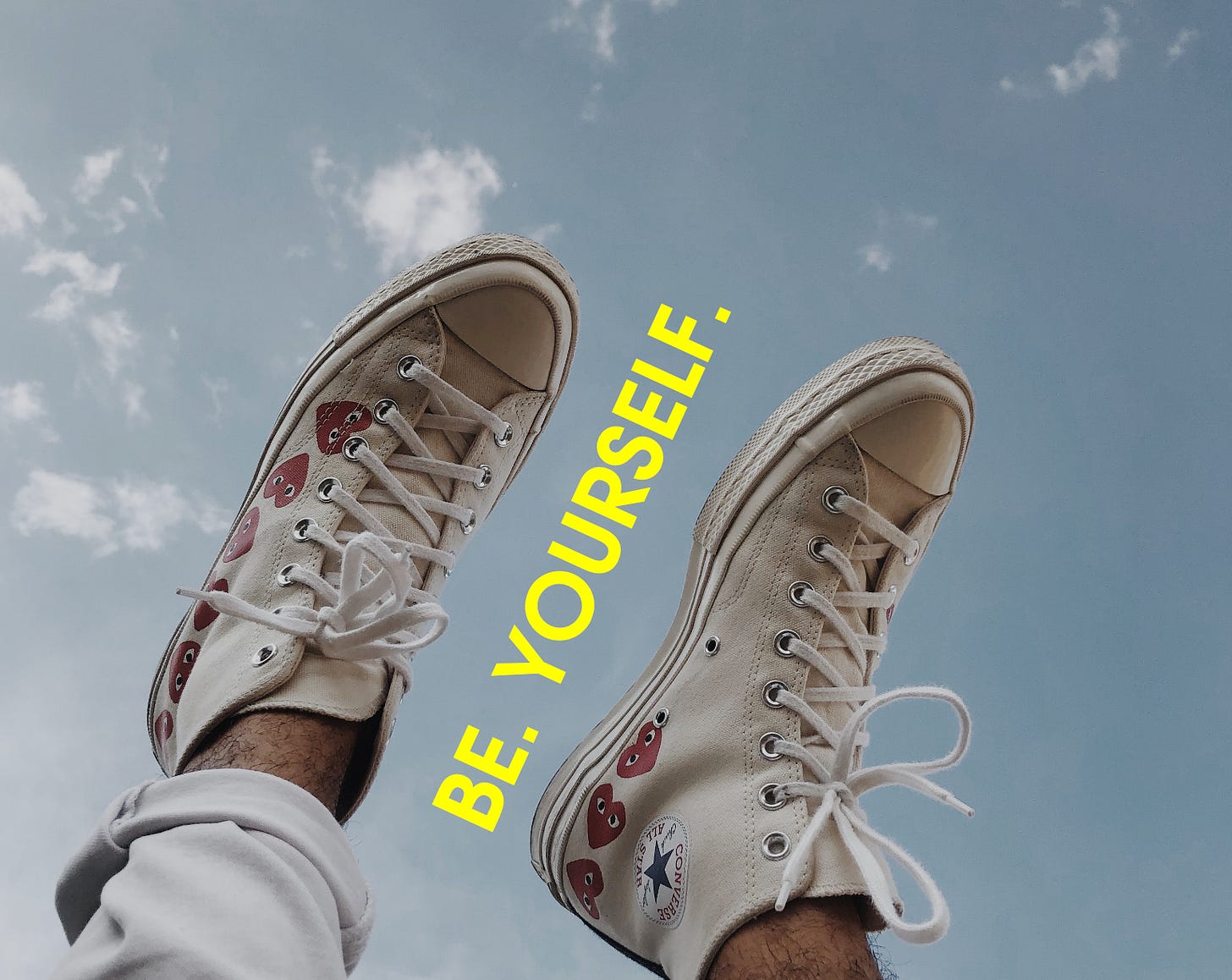 (Photo by Oscar Gutierrez on Unsplash)
Converse has always had a special relationship with basketball. The sport was the foundation for the brand's start in the early 1900's and that relationship lasted for decades.
It ended in the early 2010's, however. That marked the end of the brand's downward spiral that started in 1984.
The brand posted its first quarterly loss in 1984 — the same year Michael Jordan and the AJ1 hit the scene.

Eventually, after trying to fight off Nike for decades, Converse was purchased by the swoosh in 2003 for $305 million. It completely disappeared from the NBA in 2012 when Maurice Evans retired.
Now they're back in basketball. Just…not in the same way.
They're not a brand of stars anymore — there is no Larry Bird, no Dr. J. Instead, they're picking up players who perfectly fit their ethos.
Converse is about counter culture. When basketball faded for them, they chiseled out a new identity rooted in rebellion as a concept. Converse represents people who go against the grain.
The players that they've signed do the same. Yes, they're great basketball players. But it's not about what they bring to the court — it's about their interests off of it. That's why Shai Gilgeous-Alexander makes so much sense as their latest athlete.
No, he's not an All-Star (yet). But he's deeply entrenched in the fashion world and has interest in bringing his input as a creative to his ventures with Converse.

Converse's other athletes are similar — they have interests that go beyond sport. Draymond Green is a business mogul. Natasha Cloud is an activist. Kelly Oubre, similarly to SGA, is entrenched in fashion. Converse is looking to accentuate those qualities in a different ways other brands can't and won't.
Converse is reshaping its roster and finding the perfect personalities for it. As GM Ron Johnson said to ESPN's Nick DePaula earlier this week:
Think about it this way: Nike leads the industry in innovation, Jordan represents the passion and flight of the game, and Converse celebrates the individuality and progress of the athlete.
Perfectly said. His point? This ain't your granddaddy's Converse anymore.
---
CNCPTS >>>>>
It's always a dope thing to see businesses riding hard for equality and inclusivity. But, as we've discussed on this platform before, there are many businesses that do this as a front. They'll tweet about supporting marginalized groups instead of actually doing it.
Actions speak louder than words, always. And simply tweeting something or posting something is just about the bare minimum that one can do to support a cause.
That's why what Concepts did this week was so dope. They legitimately gave up an entire day of business to make people aware of Blackout Tuesday this week.
For those of you who don't know, Black Out Day was last Tuesday. Folks were supposed to refrain from spending money for a full 24 hours, unless it was with a Black owned business.

In respect to that, Concepts put out a statement telling each and every customer that they were shutting down all operations on Tuesday.

They also encouraged them to go spend with Black owned businesses and provided a full list of Black resources and content they could spend with, read from and watch.
It was simply an incredible gesture that many folks could learn from. No, it doesn't solve all of the problems we have. But it's not an insignificant thing to give up an entire day of business and it definitely did work in the way of raising awareness for all of the right causes and organizations.
That's a big W. And it is to be appreciated.
---
This is the dumbest thing ever
I'm not sure how many times we have to remind people of this, but listen. We're doing it again.
For all of you corny folks out there, you can eat cereal out of your shoes. You can dip them in pools. You can throw them in the trash. WE DO NOT CARE. I repeat, WE DO NOT CARE.
This message today is specifically for certified corny man Jake Paul, who decided to eat cereal out of the Dior Jordan 1's that he was probably backdoored.
Like, who does this? Honestly.
First of all, the Dior 1's are mid at best — this hurts literally no one's feelings. Well, with the exception of the people who were willing to pay a mortgage for them. But whatever. That ain't us.
Second, again, WHO DOES THIS? Lmao. Mans is corny as hell.
Y'all. Pay this man no mind. All I ask is that you don't ever mistake this for sneaker culture. That's not what this is. This is just buffoonery. Nothing more, nothing less.
---
#TheKicksWeWear
YOU KNOW THE VIBEZZZZ. The Kicks We Wear is BYKE! Let's jump in.
First, the homie Storm hit us earlier this week with the MVP LeBron 7's. I can't believe how good these things are.
Then our guy Phil came in with the ASICS Gel Kayano and they're SO FIRE. Meanwhile, I'm still waiting on my joints to come in. 🙄
The homie Sumeet came through with some heat fresh out the box. The Baskets x Shantell Martin Pumas >>>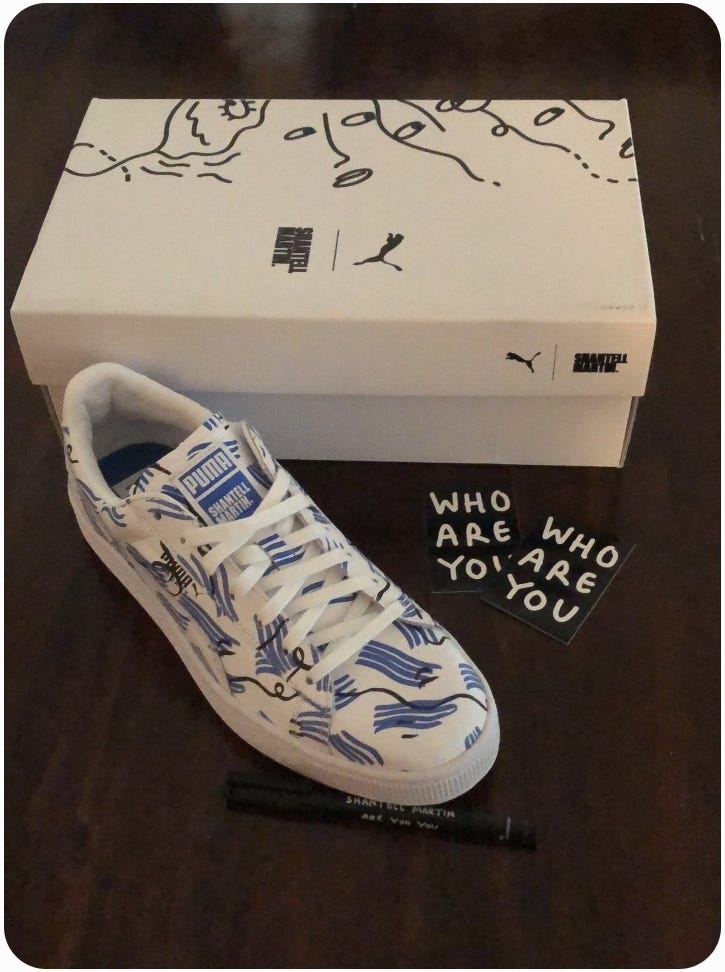 After that, the homie JB came through with the OG Grape 5's. Appreciate these joints.
My dog Breeze popped out in the Northern Lights Dunk Hi's. These joints were SLEPT on when they dropped.
The homie Rook popped out in some Nike By You Project Air Max 200's and they are HARD.
The homie Greer popped out in the Kobe 7's — another slept on joint from Bean's line.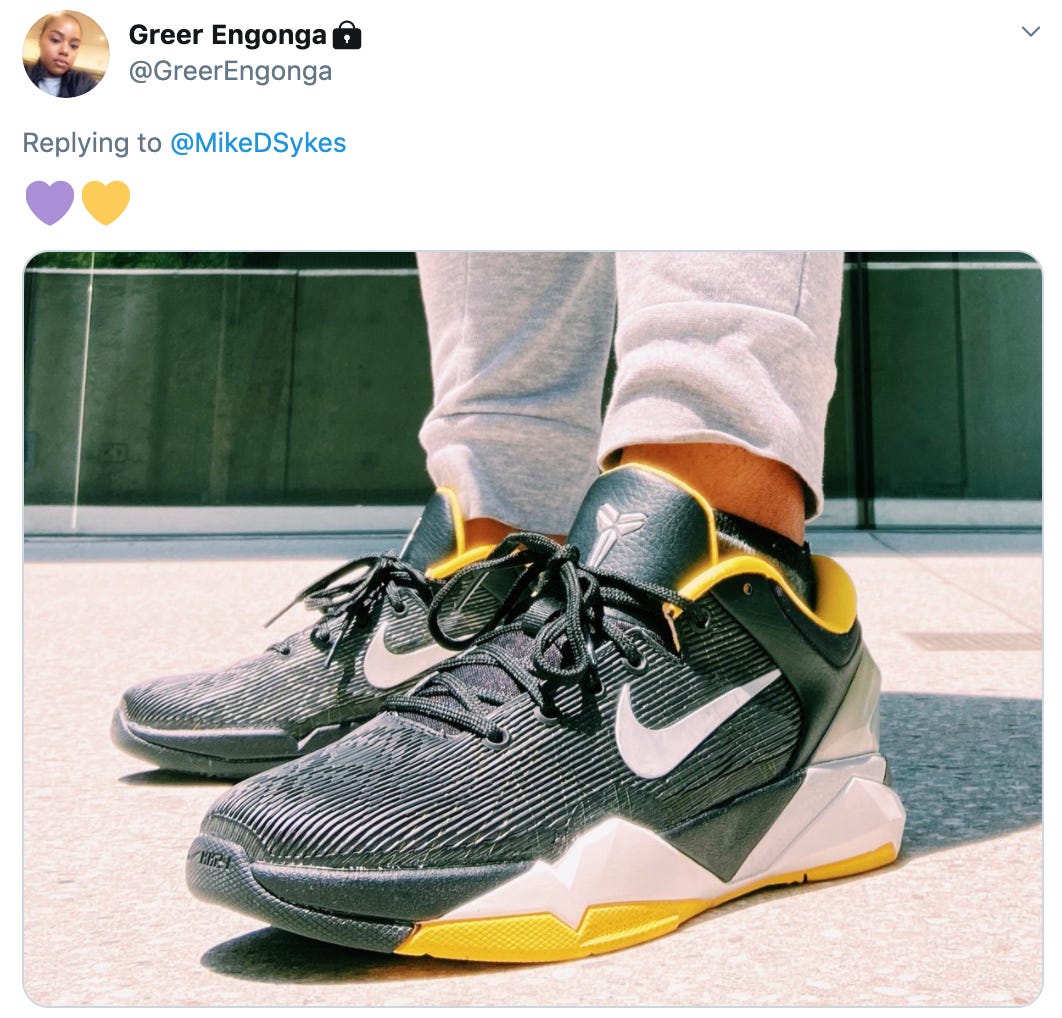 The homie Greezy came through in the Alvahs and them joints really glow.
Then my guy Noetic popped out in some golden AM 95's.
Then the better Mike took us home in the Pride edition Air Max 2090's. SO good.
Y'ALL TORCH. 🔥🔥🔥
---
Thank y'all so much for rocking with your boy on this glorious Friday!
Have a fantastic weekend and be safe out here! Most importantly, wear your mask! And eat some good food. Treat yourself — you deserve it.
As always, peace and love. Be easy. Be well. Be kind.
Signing off.
—Sykes 💯