The Kicks You Wear, Vol. 8 — Yeezy, Yeezy what's good?
Digging into Yeezy by the business and for the culture
Good morning! Happy Friday! Welcome back to The Kicks You Wear. Thank you so much for coming back here before heading into your weekend shenanigans. Also, welcome to November. If you're new here, don't forget to subscribe.
Got a couple shoutouts today. Big, big, big shouts to my Washington Nationals for winning the World Series on Wednesday! LET'S GO NATS! 🏆
Also want to give a big shoutout to the folks who left Deadspin this week. I know y'all will land on your feet somewhere soon. This business is shit sometimes, man.
With all that out the way, let's dig in.
---
What really matters when talking about Yeezy's value
(The Yeezy 350 v2 collection via Sneaker News)
Kanye West and Yeezy are arguably the most popular brand in sneaker culture right now. Yet we don't really know how much the brand is actually worth.
It has a ton of cultural weight tied to it, but does it actually make money? That's the question I kept thinking about after seeing this tweet from the NPD Group's Matt Powell.
The top selling athletic footwear shoe styles for Q3 in dollar rank order are as follows: Nike Air Max 270, Nike Tanjun, Vans Ward, Nike Air Force 1 Low, JORDAN XII, Adidas NMD R1, JORDAN IV Retro, Nike Downshifter 9, Adidas Yeezy Boost 350 V2.
A quick explainer: Powell listed the top 10 shoes that produced the greatest dollar sales for in the third quarter.
Yeezy falls in line at 10 which isn't a bad spot at all considering that there are thousands of athletic shoes eligible to be ranked. But one would think Yeezy would rank higher on this list.

This seems to be a result of the Yeezy consumer model that touts exclusivity over everything. Even with a mildly increased number of drops, there are still less Yeezys being produced than, say, the Air Max 270 or the Nike Tanjun.
At the same time, in July it was reported that Yeezy was expected to be worth $1.5 billion by the end of the year. That's fine and all, except there's nothing out there that justifies that number.
$1.5 billion came from a Forbes piece about West's growing sneaker empire but didn't come with any attribution to any particular Adidas source or any particular product driving growth. It was just there.

We've also seen this number before. Last year a report from The Blast said Yeezy was already worth $1.5 billion according to a "source close to Kanye" before the Forbes report came out. The New York Times reported that number as $1.3 billion in June. We don't know what's real and what's not.
We've talked about how the Yeezy strategy is working and exclusivity is paying off, but I don't really think we're at a point where we can safely say that with these varying numbers.
But the bigger point here is that it might not even matter. Yeezy was never expected to be Adidas' version of Air Max — that's what the NMD is for. It's all about the resale market, baby.
"What makes Yeezy popular is not the product itself but scarcity. The fewer made, the higher the resale," Powell told me. "Making too many will result in oversupply and lower resale. And the model collapse."
The secondhand market is a focus for retailers and luxury brands now. It allows consumers to get their hands on a product that they don't have access to otherwise — even at varying costs. This phenomenon is playing out in the high fashion industry, Maghan McDowell writes in Vogue Business.
BCG found that 71 per cent of pre-owned buyers bought items they could not afford firsthand, suggesting that these customers are not stealing market share from the primary market. But they might turn in to primary market customers; 62 per cent said they bought a brand for the first time on Vestiaire and would consider buying that brand again. More than half of those said they would consider buying the item firsthand.
This applies to sneakers, too. If someone buys the Yeezy 350's and loves the experience, they may be more inclined to cop another Yeezy at retail or the Yung-1 or the NMD or whatever else Adidas has to offer. This is what some folks consider the "Halo effect" of Yeezy — it introduces people to the height of Adidas.
Powell doesn't necessarily buy it. "Sneakerheads believe in a halo because it justifies their self importance," he told me. I think there is definitely something to that. The culture tends to believe it shifts probably a bit more weight than actually does.
But I also think we'd be mistaken if we overlooked West and the Yeezy influence on the culture since he joined in 2013. There's been a clear shift in thinking when it comes to Adidas and, while West might not be the only cause, there's definitely correlation there.
This is the absolute best case study we have in actually figuring out whether the halo effect actually exists. When we get some real numbers on Yeezy, we'll know get a clearer picture.
In the meantime, will he ever make some actual good music again? Good Lord.
---
When betting on yourself goes wrong 👎🏾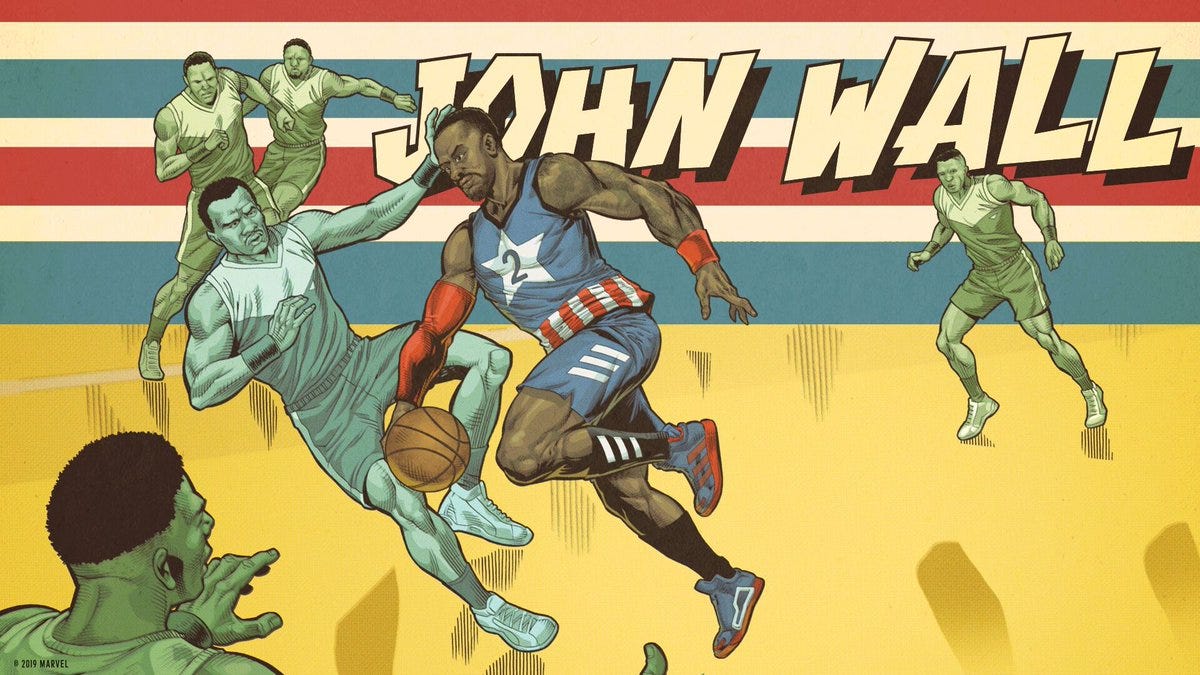 (John Wall in an Adidas promotion via Aaron Dodson)
I'm always a big believer in betting on yourself. You control what you can control and be the best you can be. That's what it boils down to. Sometimes, though, things just go awry and the bet doesn't pay off.
That's what happened to Wizards point guard John Wall. The former All-Star is in the midst of buyout negotiations with Adidas to end his five year endorsement deal with the company after just two seasons, ESPN's Nick DePaula reports.
The backstory:
Wall's current deal is actually his second with Adidas. He was signed to the three stripes back in 2013 and even had a couple signature shoes with the brand (that's a BIG deal, by the way).

He left the brand in 2015 and was a sneaker free agent (like PJ Tucker last week). After two seasons of flirting Wall re-signed with Adidas on his latest deal — this time with no signature shoe.
This was something that I followed for a while back when I was on the Wizards beat at Bullets Forever. Wall was excited to sign his new incentive-laden deal in 2018 and potentially play himself back into a signature shoe.
It was unlikely he'd ever see another signature sneaker, by the way. Adidas had already seen the numbers he brought from a fan perspective and they weren't big enough.
We're in buyout territory because he's hurt. Wall has been injured through most of the last two seasons and is rehabbing from a torn Achilles tear right now. He'll be out until, at least, February and will likely miss the All-Star game.
Part of the incentive structure in Wall's deal banked on him being an All-Star and an All-NBA player. He'll miss those opportunities for the second year in a row. Adidas is basically paying him to rehab right now.
A ton of people have questions about why Adidas is choosing to buy Wall out right now — especially when they still carry Derrick Rose who battled through a ton of injuries and, let's not forget, was accused of rape.
The long answer sucks. The short answer is capitalism. Derrick Rose still makes a ton of money for Adidas and still has a ton of pull in China where 70% of his shoe sales come from. Rose's $185 million deal also dwarf's Wall's that maxes out at $25 million. Basically, that buyout is way more expensive.
It stinks, but this is how business is done. Wall's injuries were out of his control and now he's paying for them. That's part of the risk assessment and why the bet he made was such a big deal.
Hopefully, he gets well soon.
---
When betting on yourself goes right 👍🏾
(Spencer Dinwiddie's custom K8IROS sneakers via HoopsHype)
Boy, that was a bit depressing. To cheer things up, let's talk about Nets point guard Spencer Dinwiddie.
A signature shoe is the biggest sneaker accomplishment any athlete can have. 16 active NBA players have one of their own. Among them are big names like LeBron James, Kevin Durant and Kyrie Irving. There's also Dinwiddie.
Dinwiddie isn't a huge name as a backup point guard, but he has a sig line. How? He launched his own brand two years ago: K8IROS. He also draws up the basic designs his kicks himself.
The best part is that he's using the proceeds from his shoes to help people. ESPN's Nick DePaula has more.
"Two years ago, with no sneaker company clamoring to sign him, the former second-round pick decided to create his own signature shoe from scratch. He then used the proceeds from auctioning off his own game-worn sneakers last season to help pay for the college educations of two students," DePaula writes.
Dinwiddie gets super creative with his. Each shoe is designed pretty much blank, allowing the point guard to show off a ton of custom artwork in each game.
Last season, he had 82 different custom looks featuring all of Dinwiddie's inspirations and heroes — either reality or fiction. Whatever he wanted.

He partnered with Project Dream, a boutique production agency, to auction off each pair to launch a scholarship program alongside the United Negro College Fund to put low-income kids in better schools. Literally the dopest shit ever.
I love to see this. In a world where sneakers are treated as status pieces we sometimes forget to think about where our money goes. We pay billion dollar corporations a ton of money for shit that makes us feel great. And, by the way, that's totally fine! Sneakers are cool and we should buy them and wear them.
But what Dinwiddie is doing here matters because it actually helps people and also still provides us with a dope, creative product. We need more of that, honestly. This is a great change of pace and it's dope to see it done on an independent level. Not in a Big Baller Brand way, either, where we're being charged damn near $500 to support. That's bullshit.
Shoutout to Spencer Dinwiddie, man. This is the best story in sneakers right now.
---
The Shoe Surgeon does it again ✂️✂️✂️
If you've never heard of the Shoe Surgeon, you gotta get hip ASAP. As a brief intro, his name is Dominic Ciambrone and he's a custom footwear designer that literally takes pieces from different designs to create one masterpiece.
Think about, like, stripping down a Dunk and combining it with the Jordan 5. Wait, don't think about that. That's probably ugly. You get the point, though. Dude makes Frankenstein shoes and they look great.
For his latest masterpiece, he took the Nike Dunk "Freddy" design inspired by Freddy Krueger and turned it into a Jordan 1 for a Halloween special.
(Freddy Jordan 1 via Sneaker News)
Y'all. This is fly as hell. I'm not a horror movie buff (read: I'm a bitch), but I'm still so into these. It's probably the Dunk inspiration that's hooking me, but I'm also a huge fan of anything corduroy and Christmassy.
These are definitely it. Cop these joints for a measly $2,500 here. 🙃
---
🔥Holy Grail Fridays🔥
Once again back here to tell y'all about the shoes that I yearn for. This week, I don't really have a horror story. Just something that I need to be rereleased again for the culture.
It's the Nike Air Hype Uptempo. These are from 1997 (I think?) Here's Steve Nash wearing a pair via Complex.
It's the throwbacks like these that made me really fall in love with the game of basketball — especially around the time Nash was coming up. He wore some real low key joints that need to be resurrected, but I digress.
I miss basketball joints like these. These days the shoes are all about performance and less about aesthetics. Something like those, though? I'll wear em all day.
My point is: Bring back 90's basketball kicks. You can have all my money if you do. That goes to all of Nike, Reebok, Adidas, whoever else. Just hook the nostalgia into my veins. Please.
---
Alright, y'all! That's it for me this week. Thanks again for reading. Tell a friend to subscribe and share!
Talk to you on Monday! Be easy.
Signing off.
—Sykes 💯