The Kicks You Wear, Vol. 9 — I hate waiting in line, but...
Oh, you had a successful day with the SNKRS app? Can't relate.
Good morning! Happy Monday and welcome to the Kicks You Wear! Thank you for sharing a bit of time with me to start your week off. Let's make it a great one.
Today's shoutout goes (selfishly) to me! I'm starting a new gig today at USA Today's For The Win where I'll be writing about basketball and apparel and other dope shit. Follow me over there and follow us on Twitter.
With that out the way, let's dive right in.
---
Tryna get that old thing back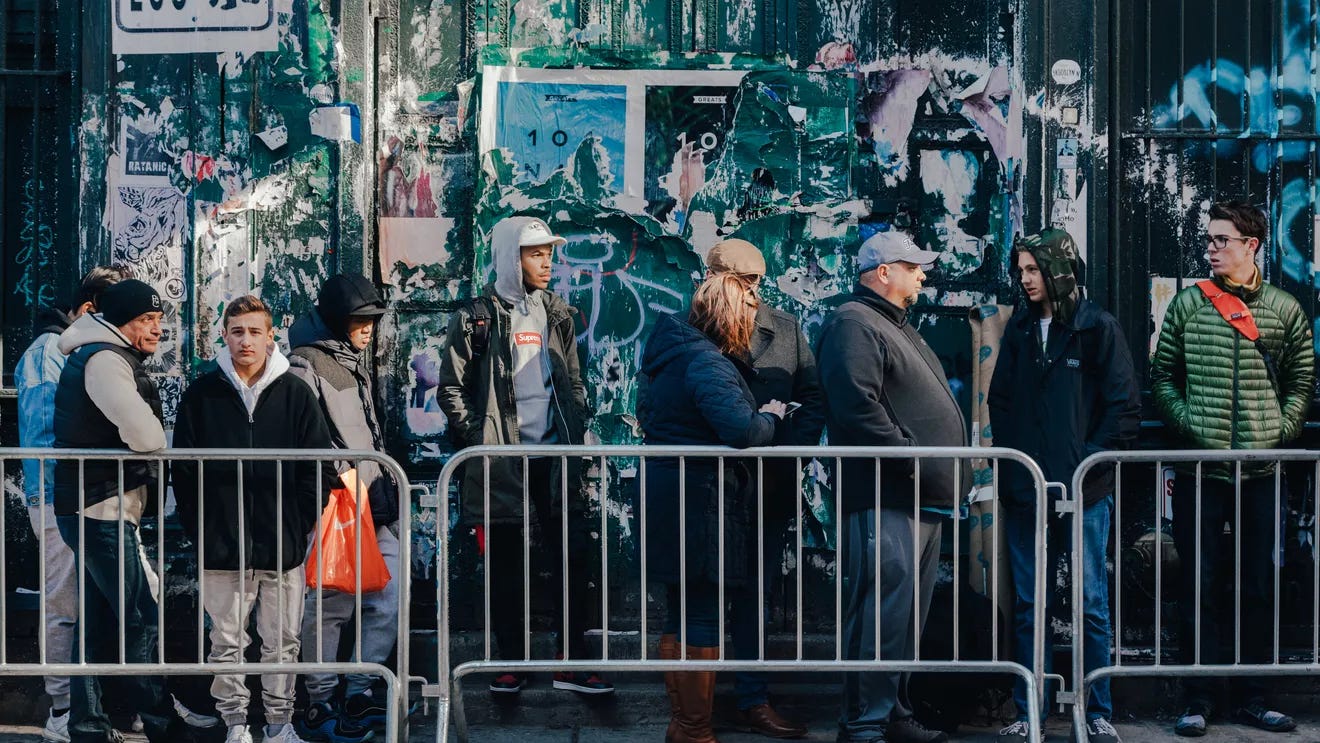 (People standing in line for shoes via Andrew White)
I remember so vividly, nearly 10 years ago now, wanting the 2009 Space Jam 11's. Everyone in school was chatting them up — "You copping the Space Jams this weekend?" I definitely wanted them, but "nah, that's too stressful." 16 year old Mike was broke and not playing those games.
Still, the hype was palpable. You had to go to the store to get them. They were only available on a first come, first serve basis and, all around the country, people were lining up and camping out waiting for these joints to release way ahead of the drop date on December 23rd. I didn't even want to try. Folks were doing way too much.
There was so much talk about the violence surrounding the shoes. People were being robbed for their sneakers if they got their hands on them.
They were also camping out for days despite not knowing if they'd actually get to buy the shoe. And when I say camping, I mean literally camping. No bathroom breaks. Not moving for anything. That's doing a lot.
This drop changed sneaker culture forever. First come, first serve died because of all that. Now, I sit here trying to decide if it was for better or worse.
After this release, we started to see more systems put in place to make shoes accessible. Stores started using ticket raffles to give folks an opportunity to buy exclusives and releases were beginning to move online.
Apps became the wave over the next few years. Nike launched SNKRS in 2015, Adidas launched the Confirmed app around the same time for Yeezy drops, and so on. They were supposed to make drops more accessible, fair and safe. The only thing they've accomplished so far is that safe part.
From the jump the Confirmed app was buggy and Adidas eventually moved away from it.

Y'all know all about SNKRS. The bugs, the false confirmations, the broken payment processing system. Bots eat up all the drops within minutes, too. I'm something like 0-37 on the app right now.
I wake up every Saturday just to see how quickly sneakers will be gobbled up by bots. This weekend, Jordan Brand's first drop from the Fearless collection launched and I wanted to see how they'd sell.
I logged on at 10 a.m. to see every size was still available. By 10:04 a.m. they were sold out. None of the folks who I knew wanted them got their hands on them. The price immediately doubled to nearly $300 on StockX. It's rinse, wash and repeat every weekend.
These apps are supposed to make things easier. The saving grace here is that the secondary market is easy to access, but that can sometimes be a beast in its own right. It's frustrating as hell to not have a shot at something I've been eyeing because of bots and glitches. It feels so unfair.
The Fearless drop got me thinking about whether or not I'd be willing to stand in line for some of my kicks. Like, am I really at this point with it?
It might be worth it. At least I can know whether or not I have a shot — I can actually see the line and who is in front of me. There aren't bots. Once they're sold out, an actual human can let me know that and I can go on about my day. It sounds like a better deal to me.
I don't think we should feel this way as a culture. It's 2019 — we should have a better system in place to do these things. Technology should solve this problem. I think there are some good examples of how it could, like StockX's IPOs, but we're not that far down the line yet.
The other side of this is that exclusivity is still king here. These companies don't want everyone to have the biggest releases. If everyone did, they wouldn't be as big anymore. That's fair — I understand that. But feeling like I should just hit the aftersale market first just to try and get a leg up doesn't make sense.
I want somebody to figure this out, but they won't. Bottom lines have to fall through for things to change and, as it stands, they won't. The only reason things changed in the first place was because of that spark of violence. With online shopping becoming the thing now, that isn't an issue anymore.
It's great to not be robbed in your own home, obviously. But I also just want a legitimate shot at my favorite shoes. Is that too much to ask? Right now it definitely feels like it.
I just want to go back when my parents would take me shopping and I could grab a great pair of J's off the shelf. Man. What a time to be alive.
---
Revisiting the Nike Vaporfly debate 👀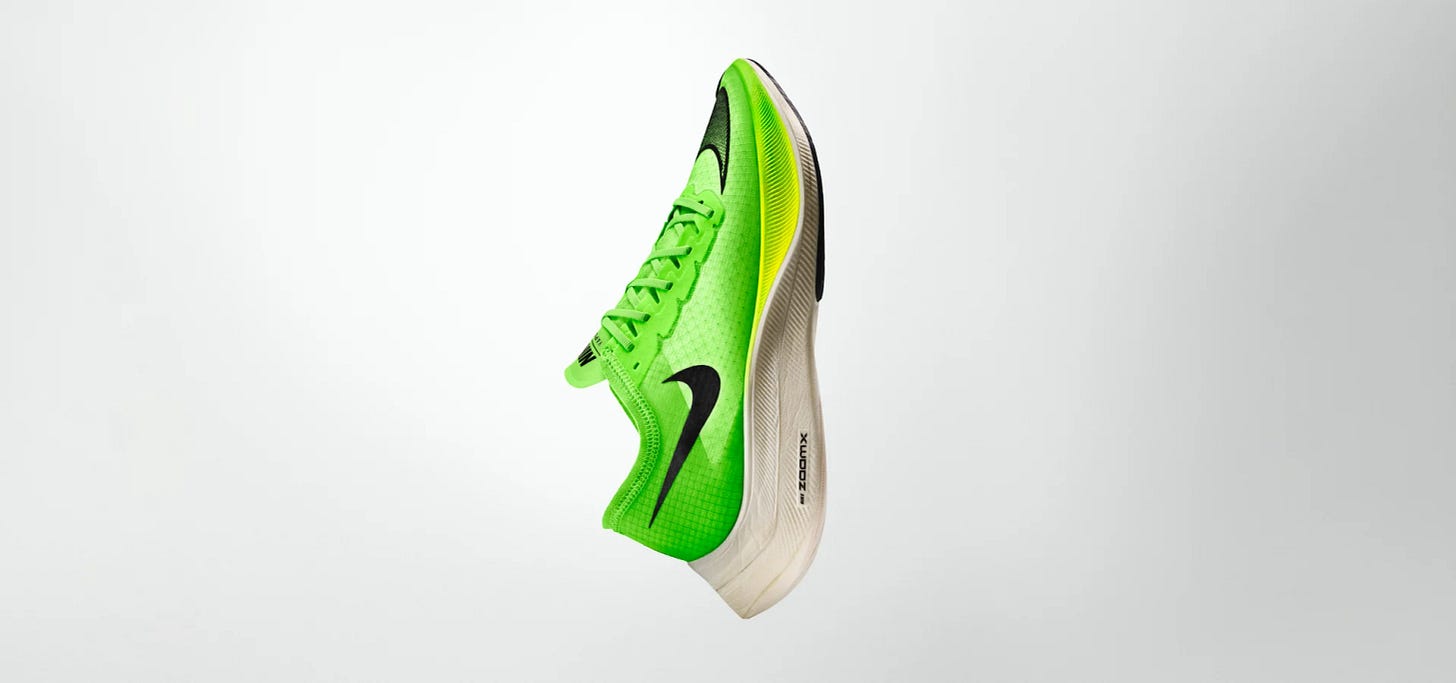 (Nike's Vaporfly via Nike)
A couple weeks ago when Brigid Osgei and Eliud Kipochoge respectively shattered the women's and men's marathon world records, a massive debate followed them across the finish line.
They were both wearing Nike's Vaporfly Next% shoes when they ran. Kipochoge's sub-two hour run time, in particular, was a particularly touchy subject because it was assisted by the shoes and pacers running along with him.
I told y'all I didn't care about all of these caveats when the news first broke — and I still don't, honestly. I think those accomplishments stand alone regardless of the shoes they were wearing. Yet, I still have to respect the debate surrounding them.
On one hand, some consider the shoes the next innovation in running. Obviously, as time goes by technology gets better. We innovate all the time outside of sports — why should it be any different in sports? In the early 1970's dudes were hooping in Nike Bruins and Chuck Taylor's. Should LeBron James' records be considered invalid because of that now?

On the other hand, some consider it mechanical doping. It's obvious the shoes do give a boost to the runner. The carbon fiber plate in the zoom unit gives the runner extra bounce and eases the resistance in each step. That seems to be a fair and valid criticism in the running community.
This debate isn't a new thing. It's something the International Association of Athletics Federations has been tussling with since 2017, Laine Higgins of the Wall Street Journal writes (subscription).
The International Association of Athletics Federations, the governing body of running pursuits, has been aware of the controversy surrounding the Vaporfly since 2017. In April of this year, the IAAF technical committee formed a working group of "two former athletes alongside experts in science, ethics, footwear, biomechanics and law" to determine whether a technical rule change was necessary to ensure that races be fair."
The IAAF has to find the right balance between innovation in technology and the showcase of a runner's skill. Being the best at something is a bit different than using the best tools to make you the best at something.
My thing is we're still talking about some of the best runners in the world with folks like Kiopchoge and Osgei. What difference do these shoes make when we talk about the casual runner? When these elite shoes are available to everyone, does that pose a problem? I don't think so, but I'm also not a runner.
Here's the thing people are missing: Records are meant to be broken. Society gets better day by day in all that we do — and we should! That's a great thing. If we didn't progress, the world would be more awful than it already is.
The IAAF should keep that in mind regardless of how they choose to regulate these shoes.
More reading: Outside Online spoke to elite marathoners for different brands about the Nike shoes and their takes were fascinating. Check it out.
---
The Nike and Cultivator launch is back and still dope as hell 🔥
If you remember, a couple months ago Nike By You and creative brand We Are Cultivator launched a Nike By You initiative where they tapped in to 28 designers from New York to have them creative their own custom Air Max 200's, Air Max 270's and React Element 55 kicks.
On Friday they launched again and I thought the result was pretty dope. They picked 37 different designers from across the country and let them customize four designs between the Air Max 1, Air Max 95, Presto React and React Element 55.
The Yo Supero by elFernandoSez is my fav out of the collection.
The rest of the joints are here. They're all pretty dope and vibrant, which isn't always what you get when you drop massive collections like this. Nike seems to be doing these right — so far, anyway.
I haven't decided if I'm going to cop yet, but I think those would be a pretty solid addition to the fall rotation. What do y'all think? Let your boy know.
---
The best thing you'll watch all day 😂😂😂
Fam, it's Monday. You need to laugh today. This content will make you.
Bernie Sanders sat down with Desus and Mero to talk about politics — you know, the usual. Trump, 2020, AOC and all that good stuff. He got into his relationship with Cardi B and Killer Mike, too.
But what you really need to see that you probably didn't know you needed to was Bern giving you his estimate for resale prices on high end sneakers.
At about the 5:35 mark, they asked him to guess the resale on Travis Scott's AJ1, Virgil Abloh's Chicago J1 and Kanye West's Red October. Obviously, he fell way short on every single shoe. His reactions were amazing.
When he asked "That's a status thing?" I fucking lost my mind. ABSOLUTELY, BERNIE. YES. FIX IT.
Yo. If Bernie found a way to get me the Red Octobers? Fam, where is my mind going. Lmao.
---
What's droppin' bruh 👟
---
That's all for today! Thanks again for reading. If you're new here, don't forget to subscribe! Feel free to share and also shoot me some feedback. I want to make this newsletter the best it can possibly be for y'all! Tell a friend to tell another friend about The Kicks You Wear.
Have a great, productive and positive week. Sending all of my love.
Signing off.
—Sykes 💯