The Kicks You Wear, Vol. 30 — Getting a lil color up in here
Good people doing good things to diversify sneakers
Good morning! Happy Friday! Welcome back to The Kicks You Wear! Thank you for giving your boy a little bit of time on this wonderful morning. I'm forever grateful to you.
Today's shoutout goes to y'all, family! Thanks for showing me so much love this week. It's been a rough one, if I'm keeping it a buck. Every tweet, message and call y'all made to me this week made it a bit brighter. So thank you.
Anyway, let's dig in.
---
Coloring the industry
(Photo by Oladimeji Odunsi on Unsplash)
One of the first stories that I wrote for this newsletter was about how the industry was lacking people of color in important places. That hasn't changed.
The industry has a diversity problem. Not just with women — with color, too. The numbers back that up.
It's not just executive spots. It's the design part, too. People of color aren't even in on the creative processes behind these shoes and that's awful.

That's particularly disappointing when people of color — specifically black people — are the ones who push the space forward so much. Where is the industry today without Kanye West? Virgil Abloh? Travis Scott?
People from all walks of life are sneakerheads. But the people in it who are amplified the most are mostly white and male. Let's also keep it a buck — they can also be the most gatekeeper-y people out there.
That all has to change. Luckily for us, there's someone out there right now doing the work to change it.
Pensole Academy, a company launched by D'Wayne Edwards to increase diversity in sneakers, is launching a new initiative that plugs historically black colleges and universities into the industry and introduces their students to careers in footwear, Footwear News is reporting.
The L.E.A.D. by Design program (leaders emerge after direction) is accepting up to 60 applicants to participate in three seminars that take place from March through November.

The master classes will teach students what it's like to work with a professional product creation team, the basics of design and will also develop students' portfolios for internships and entry-level industry jobs.
This is absolutely amazing work that needs to be done. It's a start. It opens the door for students to get in to the industry at the ground level and work their way up through the ranks.
It's giving black and brown students a hands-on experience at a career path that's extremely hard to break in to. Getting to know people in the industry is tough. This makes that first step in breaking through that much easier for those kids. They don't have to seek out the breakthrough — it found them instead.
Here's more from Edwards
"Our goal is to break down those barriers of disconnection and connect the students to the industry, and the industry to a more diverse talent pipeline," Edwards told FN.
They're breaking barriers, indeed. Edwards and Pensole believe that the industry's diversity problem is mostly because of a disconnection between the people who run the industry and the black folks who constantly hold it up with their dollars.
Edwards has said before that the problem is that there are few African American candidates to choose from in the industry. That's not an incorrect assertion. Only 5% of Bachelor's degree holders in Arts were African American according to a 2016 study done by Georgetown University.
But that's not why the industry lacks color. You don't need a specific degree or certification to work in this industry — you just need skill. And people of color have that skill. It's about finding them, promoting them and empowering them to make decisions. When that happens, I guarantee you'll see more people of color in the industry.
This initiative from Edwards starts that process, but it's only the tip of the iceberg. These kids will be introduced to the industry, but they need to be hired. That's the next step. I look forward to seeing it happen.
Anyway, shoutout to Edwards and Pensole. It's not often that I wish I was still in college, but, yeah, I wish I was back in college for this course.
---
We finally have details on the Adapt BB 2.0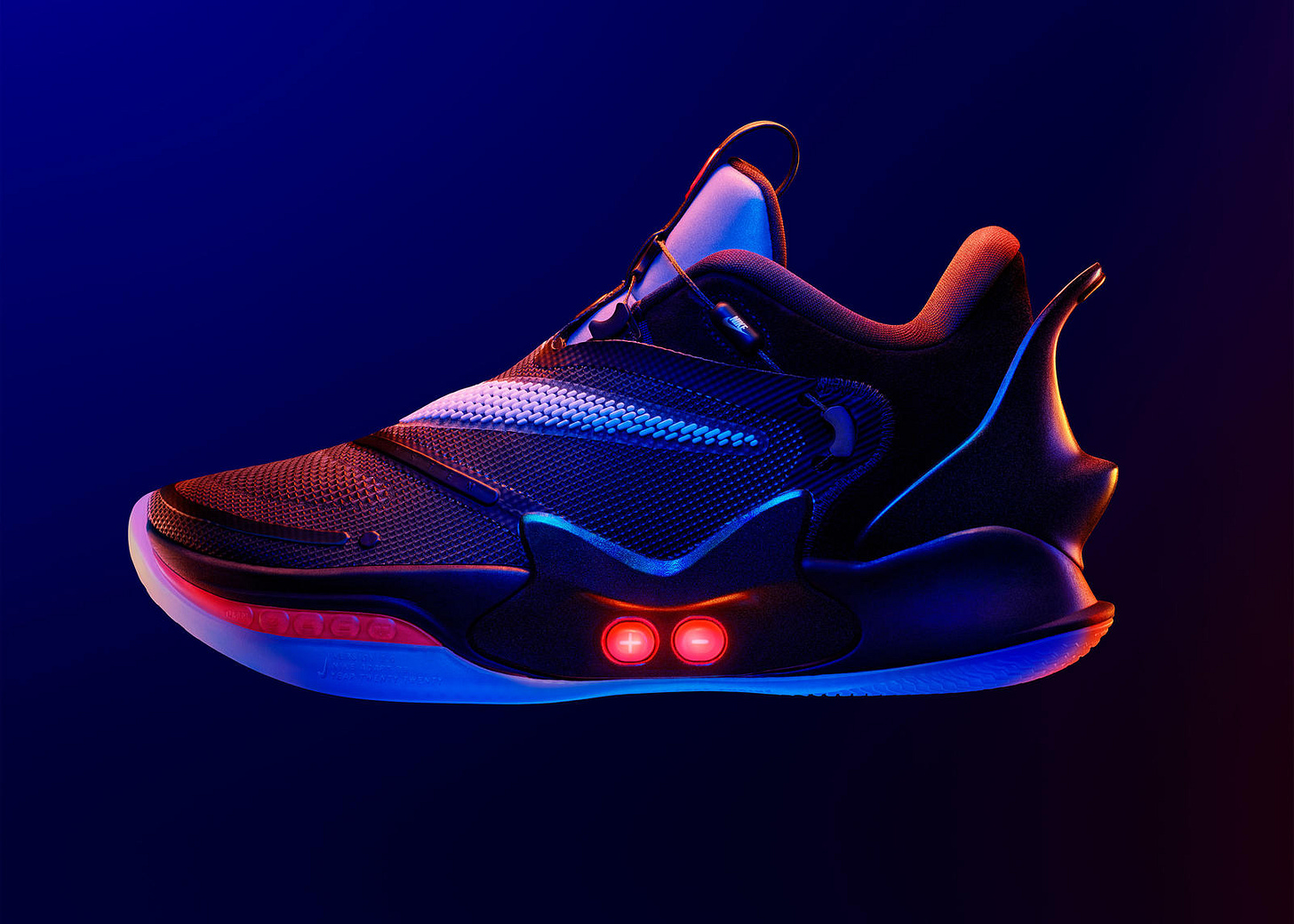 (Image via Nike)
We saw the first images of the Adapt BB 2.0 a few weeks ago, so we knew it was coming soon.
The shoe is officially here now. It was debuted by NBA rookie phenom Ja Morant on Martin Luther King, Jr. day. And, buddy, let me tell you, they look sweet.
We also know a lot more about them now than we did a couple of weeks ago. Nike dropped more details on the new kicks and gave us the hefty pricetag it's coming with. There were three big details that I wanted to
First, the shoe comes with an Air Zoom Turbo unit in the front of it that gives you a bit more of a bounce when you land. Kyrie Irving's shoe has something similar on it. Here's what that looks like.
Second, the power-lacing system that you can adjust from your phone has been improved. Designers included a molded heel piece that locks your ankle in for more support and a better run.
Finally, they also improved the area of entry into the shoe. They took off the Flyknit shroud (thank God) and opened up the collar with a stretchable mesh material throughout the upper. Flyknit sucks, fam.
The end result is a shoe that Nike says is extremely comfortable on the court and easy to maneuver in. The price point is a whopping $400 (!!!).
I've said it before and I'll say it again. This is the most important innovation Nike has made so far both on and off the court. This shoe could change the future of athletic footwear as we know it.
If they find a real sweet spot with this, we'll definitely see something similar coming with other sports. Imagine this in football. Baseball. Hell, even soccer (though Adidas has that sport on lock).

This will also be telling for what Nike's next steps with their basketball roster could look like. As off-court lifestyle shoes become bigger, leaning into an on-court product more focused on performance might make sense. This could be part of that wave. Keep in mind, this is just me speculating.
I'm really excited to see what this shoe performs like and how many hoopers actually wear this throughout the season. There are going to be some who are contractually obligated to do so, like Morant and WNBA hooper A'ja Wilson. But will we see this one spread in ways we didn't with the OG Adapt BB? Only time will tell.
The run for the Adapt BB 2.0 starts on February 16 when it drops during All-Star weekend.
---
Speaking of All-Star weekend...
Let's get into this a bit. All-Star weekend is always the most interesting time on the calendar for me when it comes to sneakers because we get to see what everyone has been working on all year long.
Over the last few years we've seen some pretty big drops during All-Star as it relates to basketball. We're going to get some pretty funky colorways this year, too, from Nike, Adidas, New Balance — you know, the usual players with the signature athletes.
But what I've really got my eye on right now is the lineup that Jordan Brand is bringing out for the weekend. They've got some good shit coming — an entire All-Star collection led by the Air Ship and OG AJ1. They're calling it the "new beginnings" pack.
Yes, a Jordan pack. It must be 2009 again.
That's not all, though. It's really crazy. They've also got
The "Red Cement" Jordan 3

The "UNC to Chicago" Jordan 1

The "Racer Blue" Jordan 9
Look, y'all.
Oh, yeah, Virgil is also dropping on the February 15th.
The AJ5 is apart of the Jordan 8x8 collection they've got coming that same weekend. They're really doing it big for All-Star.
I can only hope I'm not broke by the end of that weekend.
---
I started with love so it's ok to rip Jordan now
Because, yo, these just not it.
Look, y'all. You know I'm all for creativity and trying different things with sneakers. But this is along the lines of one of those Air Force 1 x Jordan mash ups that they should've immediately threw in the trash upon creating.
First of all, the volt colorway here? Yuck. Second, the Nike Air on the back? That looks fake. Third? WHY DID WE EVEN NEED THIS!?
I love a good Air Max 95 as much as anybody. But, fam, we don't need that on a Jordan.
Maybe it's the volt. Maybe it's just the fact that they tried to mash this thing together. Maybe it's the nasty laces. I have no idea.
All I know is that we just never need to see this joint again. It's very appropriate that the paper that comes in the box looks like a trash bag. Put it back in there. Burn them.
---
#TheKicksWeWear and THE WINNER
SO we had a winner, y'all! Julian won the raffle for the kicks! Shoutout to him for winning the first raffle we've ever had here.
To the other 499 people who didn't win, don't worry — there's much more to come and very soon. I'm going to go broke fucking with y'all, but I'm gonna love it.
In the meantime, let your boy know what giveaways y'all would be interested in. Do you want some laces? Cleaning kits? Sneaker covers? Let me know. I'm trying to give this love right back to you, fam.
Diving into The Kicks We Wear for a bit, I busted out my Zoom Flys. I call em the nasty yellows.
The homie Shawn P brought out the Mars Blackmon AJ4's.
The better Mike brought out some Air Max 720's. I really wanna cop some of these.
The homie T.J. McBride put me on to game from sports savant AJ McCord, who is absolutely rocking the Melody Ehsani joints here.
💎 if you knew what you had was rare, you would never waste it 💎 📸
@caseyholdahl
To cap things off, the homie Greer brought out the Travis 6's. This is a flex. Most definitely a flex.
That's all we got for this week, y'all!
---
That's a wrap for Friday! Thanks so much for showing your boy some love. Thank you for your time. I hope you enjoy the rest of your day and your weekend.
Love y'all. As always, peace and love. Be easy. Be kind.
Signing off.
—Sykes 💯